a
Naval Industry News - Indonesia
PT Pal Delivers 1st SIGMA 10514 PKR Frigate to Indonesia (TNI AL) KRI Raden Edi Martadinata

PT PAL delivered the first of two SIGMA 10514 Perusak Kawal Rudal (PKR) guided-missile frigates to the Indonesian Navy (TNI AL). PT PAL built these ships in collaboration with Damen Schelde Naval Shipbuilding (DSNS). The ceremony was attended by navy officials, namely Head of the Defense Ministry of Defense Facilities (Kabaranahan Kemhan) Rear Admiral TNI Leonardi, Rear Admiral TNI Tri Prasodjo, Logistics Assistant Chief of Naval Staff, Rear Admiral TNI Moelyadi and Eastern Indonesia Fleet Commander, Rear Admiral TNI Sudarwanto.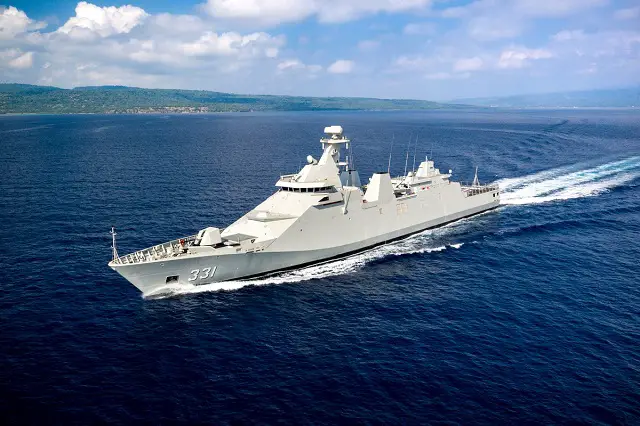 TNI AL's (Indonesian Navy) first SIGMA 10514 PKR (Perusak Kawal Rudal) Frigate in sea trials. Damen picture
The SIGMA 10514 PKR frigate was a project initiated in August 2010 by the Indonesian Ministry of Defence. The Ministry awarded a contract to Damen for the construction of the first SIGMA 10514 PKR in December of that year. The first steel was cut by the former Minister of Defence, Mr. Purnomo Yusgiantoro in January 2014 and the keel was laid in April 2014 at PT PAL shipyard in Surabaya. The PKRs are designed and built to endure various missions.

Primarily, the vessel will be operated for Anti-Air Warfare, Anti-Surface Warfare, and Anti-submarine Warfare. However, it is also compatible with Maritime Security, Search and Rescue, Patrol, and Humanitarian Support tasks. TNI AL will be strongly empowered by this state-of-the-art maritime capacity.
Video by Damen
Flexibility through innovation
The 105-metre, 2,365 tonne PKR frigates are designed to undertake a wide range of missions in and around the waters of Indonesia.

The two vessels have been/are being been built using a collaborative modular process operating simultaneously at Damen Schelde Naval Shipbuilding (DSNS) in the Netherlands and PT PAL shipyard in Indonesia. Each is made up of six modules, and for the first vessel four of these were built at PT PAL. The other two were built and fully tested at DSNS in the Netherlands before being shipped for final assembly at PT PAL.

The success of the programme rested on the two yards working together with the end client operating almost as a single unit. The strong relationship also allowed the massive technology-transfer programme to proceed smoothly, both in Indonesia and in the Netherlands.

The first Sigma 10514 delivery follows the completion of three months of crew training. Meanwhile, work is currently proceeding in both the Netherlands and Indonesia on the second vessel in the contract.

Link to SIGMA 10514 PKR Frigate technical datasheet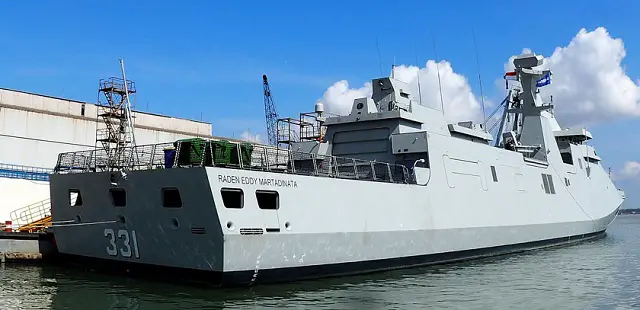 TNI AL's (Indonesian Navy) first SIGMA 10514 PKR (Perusak Kawal Rudal) KRI Raden Edi Martadinata. Picture: PT PAL