a
Naval Industry News - USA
Bath Iron Works Lays Keel for Future Zumwalt-class Destroyer USS Lyndon B. Johnson (DDG 1002)
A keel laying and authentication ceremony for the future USS Lyndon B. Johnson (DDG 1002) was held Jan. 30 at General Dynamics-Bath Iron Works shipyard in Bath, Maine. The keel was authenticated by President Johnson's daughters and ship co-sponsors, Ms. Lynda Johnson Robb and Ms. Luci Baines Johnson, by welding their initials into the keel plate. DDG 1002 will be the third and final Zumwalt-class Destroyer.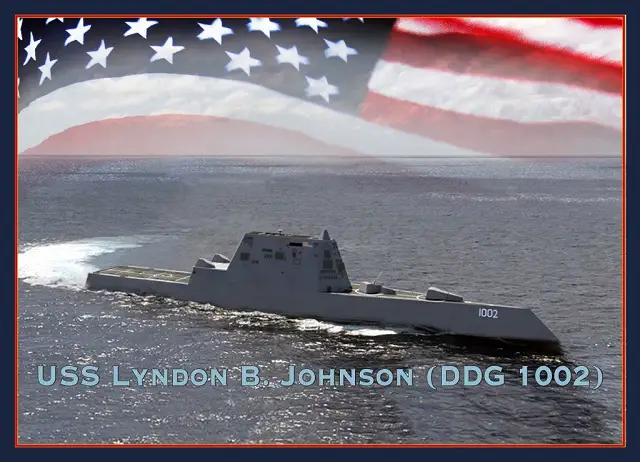 The future USS Lyndon B. Johnson (DDG 1002). US Navy image.
"We've made tremendous progress on this ship and although we're celebrating an early production milestone, we're nearing 60 percent completion on the future Lyndon B. Johnson," said Capt. Kevin Smith, DDG 1000 program manager, Program Executive Office, Ships. "We're honored to be celebrating this milestone with our 36th President's daughters and look forward to continued progress on the final ship of the Zumwalt class."

While the keel laying has traditionally represented the formal start of a ship's construction, advanced modular shipbuilding allows fabrication of the ship to begin months in advance. Today, the keel laying continues to symbolically recognize the joining of the ship's components and the ceremonial beginning of the ship.

Zumwalt-class destroyers feature a state-of-the-art electric propulsion system, wave-piercing tumblehome hull, stealth design and are equipped with the most advanced warfighting technology and weaponry. These ships will be capable of performing a range of deterrence, power projection, sea control, and command and control missions while allowing the Navy to evolve with new systems and missions.

Bath Iron Works is currently in production on the future USS Michael Monsoor (DDG 1001) as well Arleigh Burke-class destroyers Rafael Peralta (DDG 115), Thomas Hudner (DDG 116), Daniel Inouye (DDG 118) and Carl M. Levin (DDG 120).

As one of the Defense Department's largest acquisition organizations, PEO Ships is responsible for executing the development and procurement of all destroyers, amphibious ships, special mission and support ships, boats and craft.