a
Naval Forces News - Japan
First JMSDF 25DD-class Asahi ASW Destroyer Started Sea Trials
Based on Japanese ship spotters pictures, the Asahi destroyer (25DD-class), the latest surface combatant designed for the Japan Maritime Self Defense Force (JMSDF), started sea trials.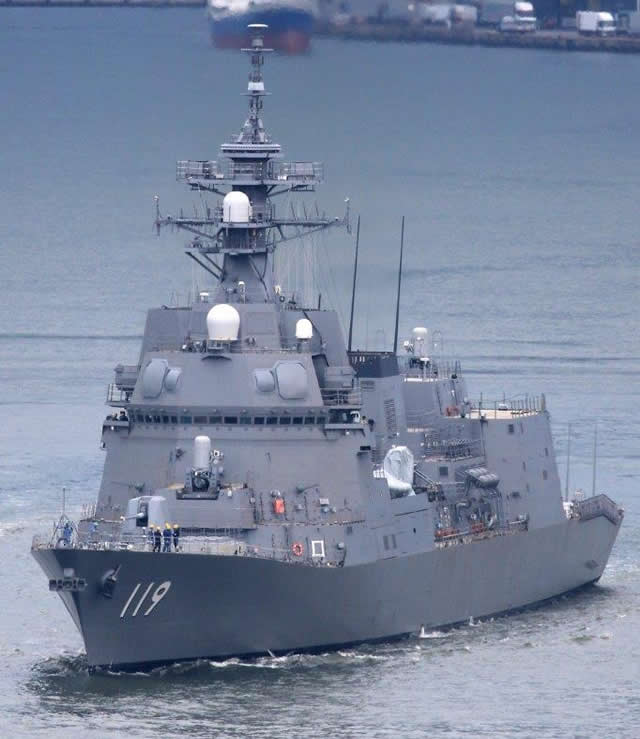 25DD-class ASW Destroyer Asahi (hull number 119) during its first sea trials off MHI Nagasaki shipyard. Picture via ship spotter colleague @tamotaro

The images and video show the new first-of-class vessel during its initial sea trials which reportedly started July 6th and ended July 26th off Nagasaki in Southern Japan. The two vessels of the 25DD-class are built by Mitsubishi Heavy Industries (MHI) in the Nagasaki shipyard.

The Asahi-class is an anti-submarine warfare (ASW) class of destroyers based on the existing Akizuki-class (19DD) of destroyers which is more focused on AAW. The vessel displaces over 5,000 tons for a length of 151 meters, a width of 18.3 meters and a draft of 5.4 meters.
25DD-class ASW Destroyer Asahi (hull number 119) during its first sea trials off MHI Nagasaki shipyard. Video via ship spotter @BinmeiTube
/
Binmei JP
The Asahi-class is uniquely fitted with a COGLAG (combined gas turbine electric and gas turbine) propulsion system, with two GE LM2500IEC turbine engines connected to two 2.5 MW/3,400 hp electric motors. This is a first for a JMSDF surface combatant. The benefit of the COGLAG configuration is is that it provides sufficient power at greater efficiency for current and future weapon systems.

Another key feature that makes the Asahi-class unique: its sensor suite. To our knowledge, Asahi is Japan's first warship (and the world's second after the German F125 and its TRS-4D) to be fitted with an operational GaN-AESA (gallium nitride - active electronically scanned array) Multifunction Radar. Asahi's radar is based on the FCS-3A AESA radar system but uses GaN technology for improved performances. FCS-3A comes with 4x C-band and 4x X-band arrays (two forward and two aft for each). The sonar suite consists in the OQQ-24 hull mounted sonar and OQR-4 variable depth sonar.

In terms of weapon systems, the Asahi-class is fitted with 32x Mk41 VLS cells forward for ESSM SAM and Type 07 VL-ASROC, 8x Type 90 anti-ship missile launchers and 2x triple torpedo launchers.

Future weapon systems "may" include the XSSM anti-ship missile, the XRIM-4 surface to air missile (in development in Japan to replace ESSM, it features an AESA seeker), a long range naval gun ammunition currently under research and the new Type 12 light weight torpedo (project G-RX 5).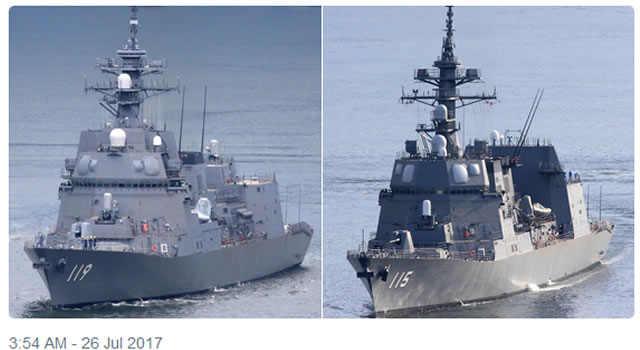 Side by side comparison: 25DD-class ASW Destroyer Asahi (hull number 119) left, and 19DD-class AAW Destroyer Akizuki (hull number 115). Note the FCS-3A radar arrays (likely the C and X bands) have inverted positions. Picture via ship spotter colleague @tamotaro
From a shipbuilding perspective, the 25DD-class was designed with a focus on reducing acquisition cost while ensuring future developability and growth. For this reason, the hull form and vessel design is similar to 19DD-class.

Commissioning of Asahi with the JMSDF is expected for March 2018. It should be home ported at Sasebo naval base and be affiliated to the Escort Flotilla 2 / Escort Squadron 2 of the JMSDF. The second vessel of the class is set to be launched in October this year.

Following the two Asahi-class (25DD) destroyers, Japan is set to built the 33DD destroyers designed by Kawasaki Heavy Industries. The lead ship of 33DD will be budgeted in FY2021 and launched in 2024. It is set to be slightly heavier than 25DD with an integrated mast and feature a CFRP hull.

Thank you to the following sources: @tamotaro @sdkfz1224 and "Ambassador"