a
Naval Forces News - Russia
Russia starts testing Project 885M Yasen-M nuclear-powered submarine K-561 Kazan
The Project 885M Yasen-M-class (NATO reporting name: Severodvinsk-class) Kazan nuclear-powered attack submarine (the second of the Yasen-class) is currently undergoing trials and will go to sea before the yearend, CEO of Russia's Sevmash Shipyard Mikhail Budnichenko said.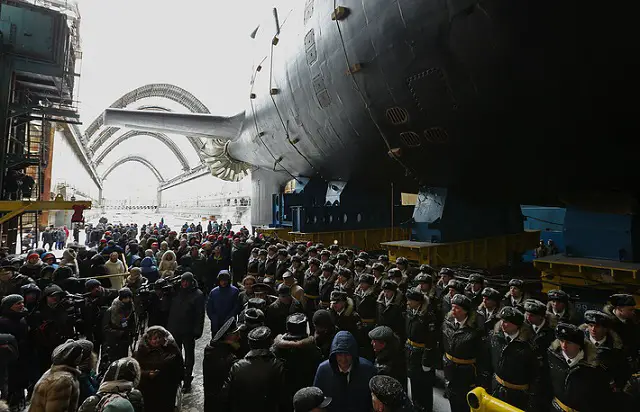 Launch of the first project 885M Yasen-M-class submarine K-561 Kazan (TASS picture via bmpd.livejournal.com).

"The submarine Kazan is staying at the quay. Its trials have started and the submarine is expected to go to sea this year," Budnichenko said.

The Yasen-class multirole nuclear-powered submarine Kazan is the second submarine in the series and the first submarine built under the upgraded Project 885M.

The submarine was laid down by the Sevmash Shipyard in 2009 and floated out in March 2017. It is expected to join the Northern Fleet in 2018. The Northern Fleet already operates the lead submarine Severodvinsk. The Yasen-class nuclear-powered submarine was developed by the Malakhit Design Bureau in St. Petersburg in northwest Russia.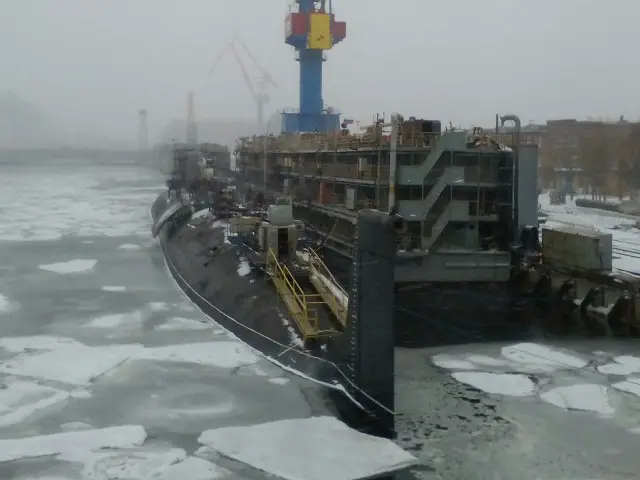 Possible image of Prokect 885M Yasen-M-class submarine K-561 Kazan during fitting out. Our colleagues from Covert Shores cast some doubt over the fact this is actually Kazan. Picture via Covert Shores.

The submarine is designed to destroy hostile submarines and surface ships and attack naval bases, ports, groups of ships and other targets.

The submarine is armed with the Oniks (NATO reporting name: SS-N-26 Strobile) and Kalibr (SS-N-27 Sizzler) cruise missiles and torpedoes. The Yasen-class submarine is a fourth-generation multirole nuclear-powered submarine. The torpedo tubes of the Yasen-class submarine are not mounted in the bow, which makes it different from its predecessors. It has a bow-mounted spherical array sonar that allows detecting the enemy at long range.

The Project 885M nuclear-powered multipurpose submarines Kazan, Novosibirsk, Krasnoyarsk, Arkhangelsk and Perm will have an improved design. In all, seven Yasen-class submarines are planned to be built by 2023

© Copyright 2017 TASS. All rights reserved. This material may not be published, broadcast, rewritten or redistributed.