a
Naval Forces News - Russia
Operational testing of first Project 885 Yasen-class SSN Submarine Proves Successful
The operational testing of the Severodvinsk - the lead ship of the Project 885 Yasen-class (NATO reporting name: Severodvinsk-class) nuclear-powered attack submarine class - has proved her design characteristics, Vladimir Dorofeyev, director general of the St. Petersburg-based Malakhit Marine Design Bureau that developed the Severodvinsk, has told TASS in an interview.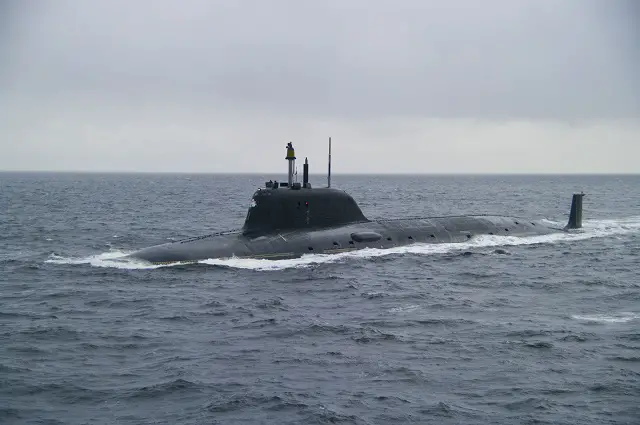 Russian Navy Project 885 Yasen-class Submarine Severodvinsk (K-560) underway
"Overall, the operational testing has produced good results for sure. The design characteristics have become objective showings, e.g. actual missile and torpedo launches, and they have proved that the Yasen class of combatant submarines lived up to expectations," he said.

According to Dorofeyev, the submarine features characteristics that are new to her type, and her multirole performance has been proved by both experimental and tactical operations. He cited as an example the modularity of the ship's weapons - both those acting as a strategic conventional deterrent and the antiship ones.

"The Yasen embodies radically novel solutions and design and architecture features that allowed preserving Malakhit's peculiar style and implementing sophisticated armament layout solutions," the director general emphasized.
Dorofeyev also stressed that the advanced submarine class could be afforded robots, if need be.

"Robots onboard a submarine is not an end in itself. Any submarine is designed for specific missions, such as antisubmarine warfare, antisurface warfare or land attack. From this point of view, using robots aboard submarines is not an end in itself, not the end, to which we should be rushing by leaps and bounds today," he explained.

What matters is robots' contribution to the ship's accomplishment of her missions, Dorofeyev added.
The Project 885 lead ship - the Severodvinsk - was received by the Russian Navy on June 17, 2014 and had been in the experimental operation before spring 2016. Seven submarines of the class, including six featuring the improved Project 885M design, are slated for construction.
© Copyright 2017 TASS. All rights reserved. This material may not be published, broadcast, rewritten or redistributed.