a
Naval Industry News - Russia
Russia's Baltic Fleet to receive Project 22800 lead corvette later than planned
Russia's Baltic Fleet will receive the Project 22800 Karakurt lead corvette Uragan in 2018 rather than 2017, a Navy source close to the situation told the Flotprom online media organization.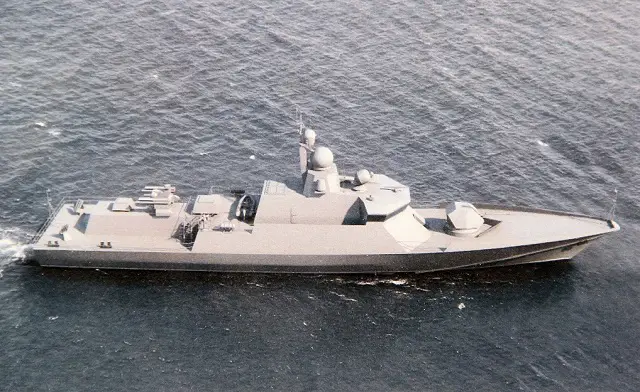 Artist impression of Project 22800 Corvette. Image via BMPD / Curious / forums.airbase.ru
The delivery date has been postponed due to new weapons. Since the Uragan is a lead ship with advanced equipment, it takes more time to mount and test it.

"Everything is all right. The delay is connected with the trials," the source said.

The Project 22800 corvette will receive the upgraded AK-176MA 76.2mm gun. The Arsenal Machine-Engineering Plant in St. Petersburg in northwest Russia said in early March that the gun had passed the trials.
The Project 22800 corvette is designed to hit key facilities in the coastal area, destroy surface ships, vessels and boats independently or in conjunction with other forces and repel aerial attacks.

The corvette will have a displacement of about 800-900 tons, a speed of more than 30 knots, a cruising capacity of 12 days and endurance of about 2,500 miles. The ship's crew will total 39. The corvette will receive a versatile vertical launcher with eight tubes and artillery systems.



© Copyright 2017 TASS. All rights reserved. This material may not be published, broadcast, rewritten or redistributed.



Artist impression of Project 22800 Corvette
Navy Recognition Comments:
The Project 22800 Karakurt-class guided missile corvette was developed by the Almaz Design Bureau. She measures 60 m long and 10 m abeam, with a draught of 4 m. Her main propulsion unit is diesel-electric and Russian-made. The ship has a maximum speed of 30 knots, a cruising range of 2,500 nm and an endurance of 15 days. Her armament will comprise a 100-mm or 76-mm versatile automatic gun and the Pantsir-M or Palma air defense missile/gun system. The corvette's superstructure will house an UKSK eight-cell VLS to accommodate the Kalibr-NK system's missiles.

Two Project 22800 guided missile corvettes, the Uragan and Typhoon, had been laid down by the Pella Shipyard in St. Petersburg. The third hull has been laid down by the Federal State Unitary Enterprise «Shipyard «Morye» in Feodosiya, Crimea in May 2016 and the fourth unit by Pella Shipyard in December. The lead ship was originally slated for delivery in 2017.