a
Naval Industry News - USA

HII Delivers Block III Virginia-Class Submarine Washington - SSN 787 - to the US Navy
Huntington Ingalls Industries (HII) announced that the company's Newport News Shipbuilding division has delivered the submarine Washington (SSN 787) to the U.S. Navy after successfully completing its final round of sea trials. The boat earned the highest Figure of Merit score to date on any new construction Virginia-class submarine.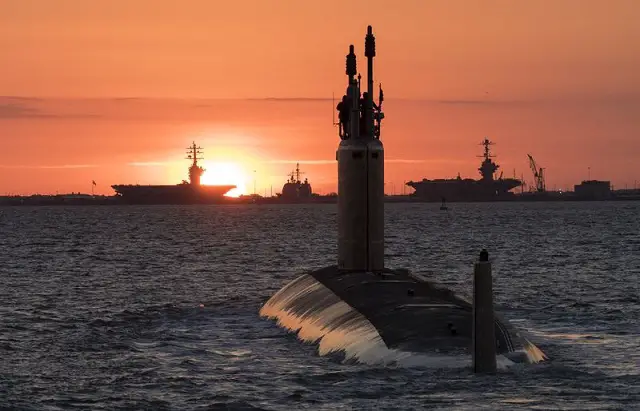 Newport News Shipbuilding delivered Washington (SSN 787) to the U.S. Navy with the highest-ever Figure of Merit score for a new construction Virginia-class submarine. Photo by Matt Hildreth/HII
Figure of Merit is the scoring method used by the Board of Inspection and Survey (INSURV), a Navy organization whose purpose is to inspect and assess material condition of Navy vessels.

"We are very proud of the ship and its great crew," said Matt Needy, Newport News' vice president, Virginia-class submarine program and fleet services. "The score is a reflection of our commitment to quality and follows in the Newport News tradition of 'always good ships.' We absolutely recognize our Navy's increasing need for mission-ready submarines, and we are committed to doing everything we can to support that demand."

Washington's construction, which began in September 2011 under a teaming arrangement between Newport News and General Dynamics Electric Boat, marked the beginning of the VCS program's two-submarines-per-year build plan. The submarine's keel was authenticated in November 2014, and the boat was christened in March 2016.

Virginia-class submarines, a class of nuclear-powered fast attack submarines, are built for a broad spectrum of open-ocean and littoral missions to replace the Navy's Los Angeles-class submarines as they are retired. Virginia-class submarines incorporate dozens of new technologies and innovations that increase firepower, maneuverability and stealth and significantly enhance their warfighting capabilities. These submarines are capable of supporting multiple mission packages and can operate at submerged speeds of more than 25 knots for months at a time.