a
Naval Forces News - USA

Block III Virginia-Class Submarine USS Washington - SSN 787 - Commissioned in the US Navy
The U.S. Navy with assistance from the submarine's sponsor Elisabeth Mabus, daughter of the 75th Secretary of the Navy Ray Mabus, commissioned and brought to life the newest Virginia class submarine, USS Washington (SSN 787), during a ceremony on board Naval Station Norfolk, Oct. 7.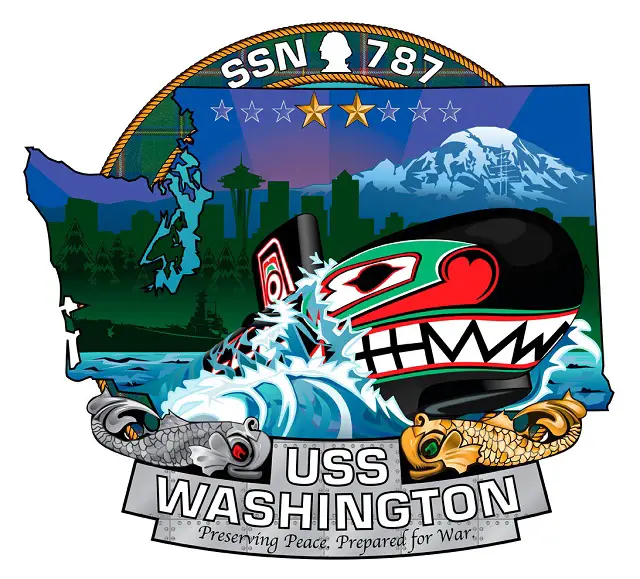 Washington (SSN 787) is named in honor of the State of Washington, the 42nd state of the Union. As such the crest design includes symbols, colors, and themes inspired by the state, the Pacific Northwest, and previous warships named Washington.
Washington, named in honor of the 42nd state, is the 14th Virginia-class, fast-attack submarine to join the Navy's operational fleet. Elisabeth Mabus expressed how proud she was of the crew and their families.

Washington is the fourth of eight Block III Virginia-class submarines to be built. The Block III submarines are built with new Virginia Payload Tubes designed to lower costs and increase missile-firing payload possibilities. The first 10 Block I and Block II Virginia class submarines have 12 individual 21-inch diameter vertical launch tubes able to fire Tomahawk Land Attack Missiles (TLAMS). The Block III submarines are built with two-larger 87-inch diameter tubes able to house six TLAMS each.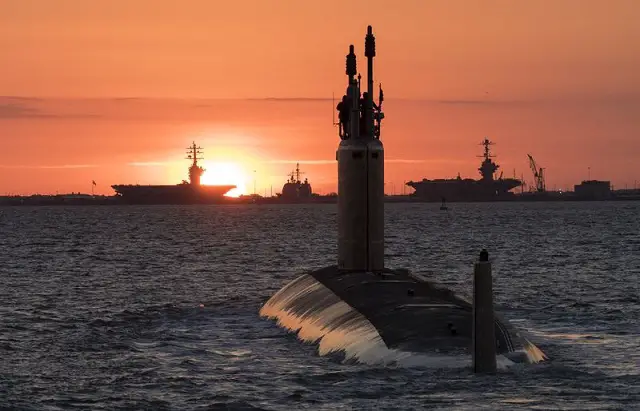 Newport News Shipbuilding delivered Washington (SSN 787) to the U.S. Navy with the highest-ever Figure of Merit score for a new construction Virginia-class submarine. Photo by Matt Hildreth/HII
Washington is a flexible, multi-mission platform designed to carry out the seven core competencies of the submarine force: anti-submarine warfare; anti-surface warfare; delivery of special operations forces; strike warfare; irregular warfare; intelligence, surveillance and reconnaissance; and mine warfare. Their inherent stealth, endurance, mobility, and firepower directly enable them to support five of the six maritime strategy core capabilities: sea control, power projection, forward presence, maritime security and deterrence.

The submarine is 377 feet long, has a 34-foot beam, and will be able to dive to depths greater than 800 feet and operate at speeds in excess of 25 knots submerged. It will operate for over 30 years without ever refueling.

Construction on Washington began September 2011; the submarine's keel was authenticated during a ceremony on Nov. 22, 2014; and the submarine was christened during a ceremony March 5, 2016.