a
Naval Forces News - USA
US Navy's Joint Standoff Weapon JSOW C-1 Achieves Full Operational Capabiliy
The U.S. Department of the Navy recently declared the Joint Standoff Weapon (JSOW) C-1 ready for full operational capability. All U.S. squadrons are now outfitted with JSOW C-1, the Navy's first air-to-ground network-enabled weapon capable of attacking stationary land and moving maritime targets.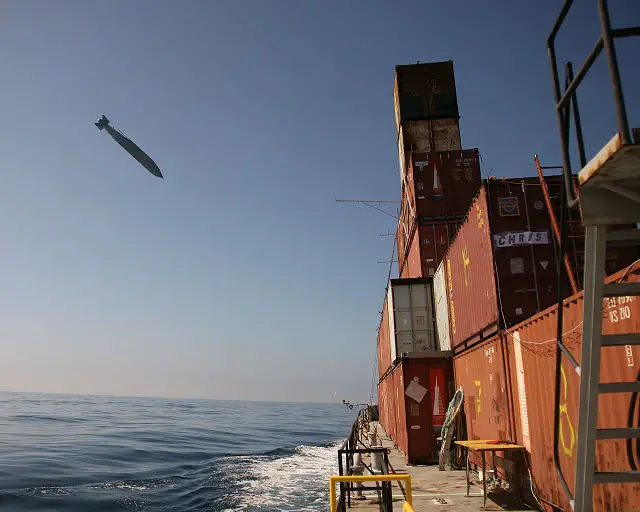 A Joint Standoff Weapon (JSOW) C-1 in flight off the coast of California in 2011. A JSOW C-1, similar to the one pictured, completed it last free-flight test as part of integrated test and evaluation in January 2015. (U.S. Navy photo)

"Formal declaration of full operational capability for JSOW C-1 is the final step in a phased approach to introducing this weapon and its capabilities to the fleet," said Cmdr. Sam Messer, JSOW deputy program manager. "It is the culmination of a complete team effort to deliver not only the hardware, but the training, tactics development and support infrastructure to ensure we field a meaningful warfighting capability."

JSOW C-1 reached initial operational capability in 2016. The program then began a series of four fleet-wide exercises that demonstrated the capabilities of the weapon in increasingly complex scenarios.

The road to full operational capability began with RIMPAC 2016 where the JSOW training team executed a virtual network-enabled weapon mission during the harbor phase. The two-day training mission culminated in the loading of Super Hornet mission cards with the appropriate keys and JSOW files for Carrier Air Wing Nine (CVW-9) to fly a JSOW C-1 mission.

A month later, using real-time lessons learned from RIMPAC, CVW-5 executed the first operational shots of live JSOW C-1's during the Valiant Shield 2016 SINKEX, resulting in high-order impacts and sinking of the former USS Rentz.

This event included multiple firsts for JSOW including the first ever operational employment of an air-launched network-enabled weapon and receipt of targeting data from the Littoral Surveillance Radar System (LSRS).

In support of the SINKEX, the JSOW team delivered four Captive Air Training Missiles (CATMs) to CVW-5 in Atsugi, Japan ahead of schedule. Naval Air Facility Atsugi was the first fleet location to receive the JSOW C-1 CATM.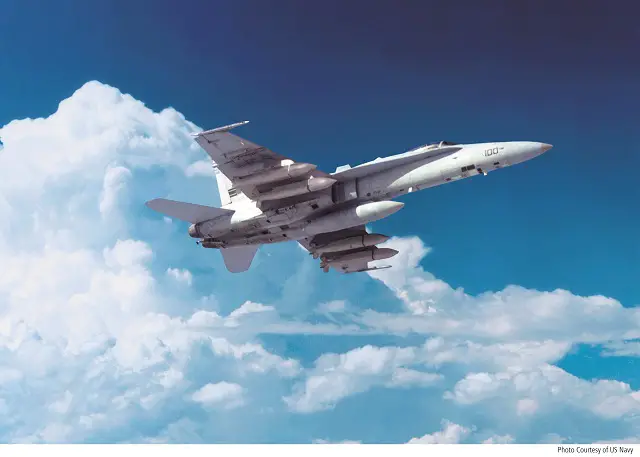 US Navy F-18 with JSOW (Picture: Raytheon)
Next, JSOW C-1 engaged in Northern Edge 2017, a contingency exercise that prepares joint U.S. forces to respond to crises in the Indo-Asia-Pacific region. During this joint forces exercise, at the Gulf of Alaska and around central Alaska, approximately 6,000 military members gather to take on the most challenging scenarios in the Pacific theater.

Northern Edge 17 facilitated network-enabled weapon kill-chain CONOPS development at all threat levels, including the contribution of off-board joint participants in tactical scenarios.

The JSOW training team also delivered CATM training to Top Gun and the Naval Air Warfare Development Center at NAS Fallon, Nevada, and CVW-9 at Naval Air Station Lemoore, California, in preparation for the exercise.

Following Northern Edge, the JSOW team embarked aboard the USS Ronald Reagan (CVN 76) in support of coalition network-enabled weapon operations during exercise Talisman Sabre 2017. The biennial combined Australian and United States event is designed to train military forces in planning and conducting combined task force operations to improve the combat readiness and interoperability between the two militaries.

Twelve maritime strike exercise events were conducted employing embedded Royal Australian Air Force (RAAF) Super Hornets with JSOW C-1 CATMs alongside their U.S. Navy counterparts. RAAF Super Hornets carried JSOW C-1 free-flight vehicles, while U.S. Navy Super Hornets were outfitted with JSOW C-1 CATMs.

This latest JSOW variant includes GPS/INS guidance, terminal IR seeker and a Link 16 weapon data link.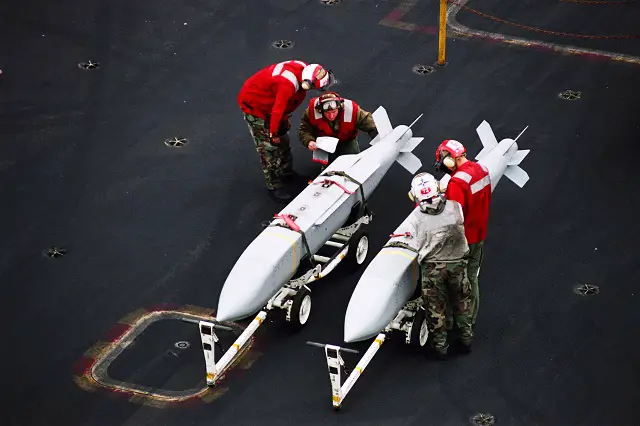 Aviation Ordnancemen assigned to G-1 Division inspect Joint Stand Off Weapons (JSOW) aboard USS Abraham Lincoln (CVN 72) before transferring them to waiting aircraft. Picture: US Navy
About JSOW
Designed and built by Raytheon, JSOW is a family of low-cost, air-to-ground weapons that employ an integrated GPS-inertial navigation system with advanced guidance algorithms. JSOW C prosecutes fixed land targets and uses an imaging infrared seeker for increased accuracy in the terminal phase. JSOW C-1 adds the two-way datalink enhancement, enabling additional target sets with moving maritime target capability. The development of JSOW C-1 is also consistent with the Navy's emerging "distributed lethality" strategy, which aims to better arm the fleet with broader offensive capabilities across multiple platforms. Potent effectors could be delivered against sea and land targets from LHD/LHA aircraft and others to more effectively address near-peer threats at sea.