a
Naval Defense News - France
Thales COMTICS to Provide Sailors with Unlimited Mobile Connectivity at Sea
In a connected, mobile world, naval personnel want to use their smartphones at sea without compromising security. Responding to this requirement, Thales has developed COMTICS, the world's first shipboard information distribution system of its kind. Intuitive, resilient and designed for mobility, COMTICS offers an expansive array of operational services in a highly secure environment.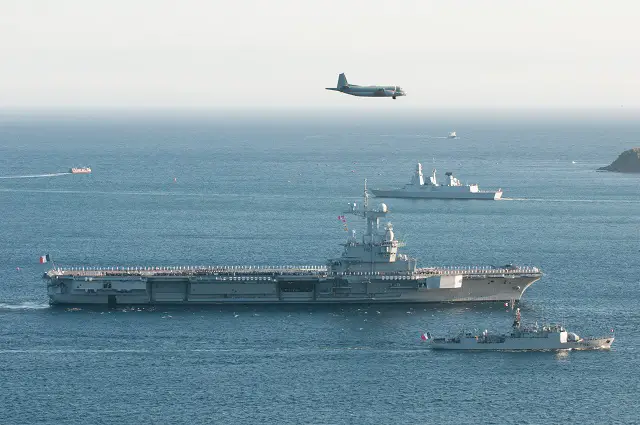 COMTICS is the only product available on the market to offer shipboard on-the-move multimedia services in a secure environment
. It is developed on the basis of solutions already deployed at sea and adopted by 15 navies and scalable to all vessel types and sizes. French navy picture for illustration purpose.

COMTICS is a multimedia communication device resembling a smartphone that allows naval personnel permanent shipboard mobility and connectivity with all types of military radios. COMTICS provides services ranging from video and data transfers to web browsing and social media, if the operational situation allows, and the ability to chat with colleagues.

Thales has designed COMTICS on the basis of its NGIN (Naval Voice Over IP) and FOCON IP (Fibre Optical Communication Network) solutions, which are fully proven at sea and have been adopted by 15 navies to date.

COMTICS offers the highest level of IT protection, tailored to the specific requirements of each customer and drawing on Thales's unique combination of cybersecurity expertise and in-depth understanding of the naval environment. To ensure service availability even in the event of combat damage, COMTICS is built on a redundant all-IP architecture to ensure continuity of operations.

The system can support up to 3,000 simultaneous calls. It is robust, dependable, ruggedised to withstand the rigours of the naval environment and scalable to all types and sizes of vessels. It is quick to learn and easy to use, thanks to the intuitive COMTICS interface, and the entire set-up can be installed in a matter of weeks as part of a legacy system upgrade.

"With COMTICS, Thales is helping improve quality of life for naval personnel at sea. It's a resolutely future-focused solution that meets all the operational, security and reputational challenges faced by navies today."
Christophe Dumas, VP Radiocommunication Products, Thales

By delivering key new applications and services for naval personnel, COMTICS allows greater mobility on board the vessel, supporting changes in the way communication devices are used and driving greater operational efficiency.

COMTICS is the only product on the market today to offer mobile services for naval personnel on deployment. It enables crew members to stay in touch with family and friends, improving quality of life at sea and making naval careers a more attractive proposition to digital natives.