a
Naval Industry News - Singapore
ST Marine Laid the Keel of the Seventh Littoral Mission Vessel for the Republic of Singapore Navy
Singapore Technologies Marine Ltd (ST Marine), the marine arm of Singapore Technologies Engineering Ltd (ST Engineering), held the keel laying ceremony for the seventh of eight Littoral Mission Vessels (LMV) on 20 October 2017.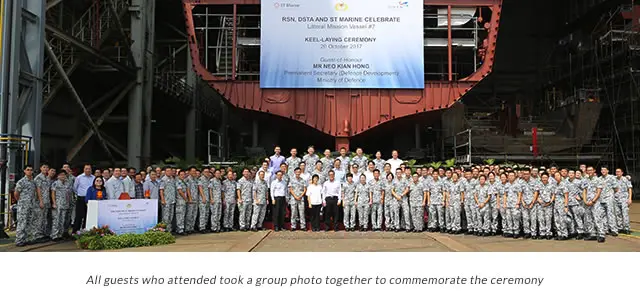 The Guest-of-Honour, Mr Neo Kian Hong (Permanent Secretary (Defence Development), accompanied by Mr Ng Sing Chan (President, ST Marine) did the honour of activating the mechanism to lower the first keel block into the cradle. Distinguished guests from the RSN, DSTA and ST Marine were present to witness the event.

ST Marine was awarded the contract by MINDEF in 2013 to design and build eight LMVs for the Republic of Singapore Navy (RSN). The fleet of the eight LMVs will replace the Fearless-class Patrol Vessels designed and built by ST Marine in the 1990s.
Our video coverage of the RSN's LMV class
The first, LMV Independence is currently fully operational to safeguard Singapore's waters. The second, LMV Sovereignty was delivered in 2016 and is currently in her last phase of Installation, Checkout, Integration and Testing (ICIT) phase for the integration of combat systems. The third, LMV Unity was delivered in 2017 and is currently on her ICIT phase. Commissioning of Sovereignty and Unity will take place in November 2017. The fourth LMV, Justice had completed her sea trials and is currently in the midst of preparation for handing over and delivery by end October 2017. The Fifth LMV, Indomitable, was launched on 23 September 2017. The rest of the vessels are under construction or in the pre-construction phase and the LMV programme is expected to be completed in 2020.

To learn more about the LMV class, follow this link.