---
The U.S. Navy's next generation destroyer, the future USS Michael Monsoor (DDG 1001), successfully completed acceptance trials on Feb. 1. The U.S. Navy's Board of Inspection and Survey reviewed the ship and its crew during a series of demonstrations both pier side and underway, evaluating the ship's construction and compliance with Navy specifications.
---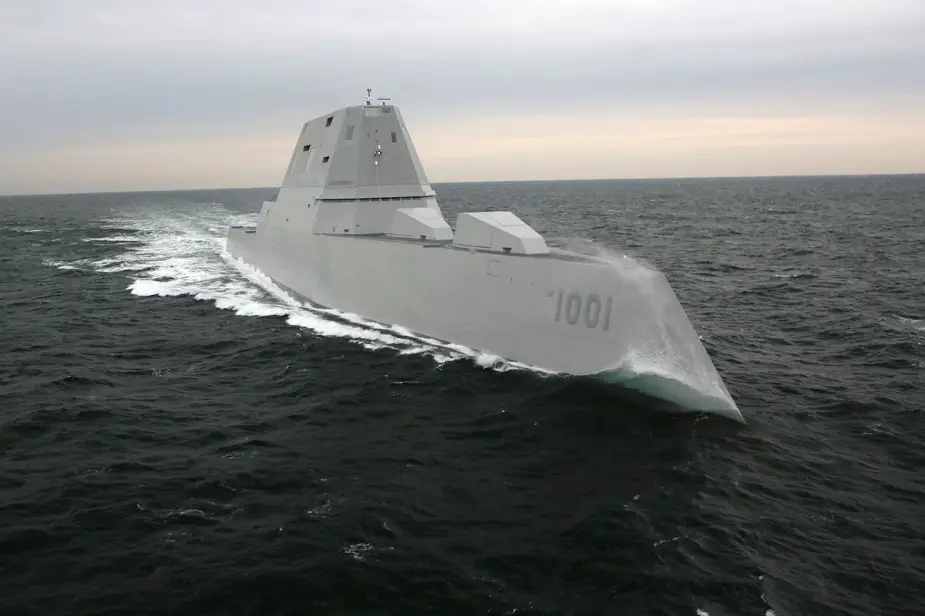 The future USS Zumwalt (DDG 1001) is underway for the first time conducting at-sea tests and trials.
---
Many of the ship's onboard systems including navigation, damage control, mechanical, electrical, combat, communications, and propulsion systems were tested to validate performance met or exceeded Navy specifications.
"DDG 1001 performed exceedingly well during acceptance trials," said Capt. Kevin Smith, DDG 1000 class program manager, Program Executive Office (PEO) Ships. "The industry and Navy team worked together to incorporate lessons learned from DDG 1000. The trials once again demonstrated how truly powerful and exceptional these ships are. "
---
GD BIW video
---
Zumwalt class destroyers feature a state-of-the-art electric propulsion system, wave-piercing tumblehome hull, stealth design and are equipped with some of the most advanced warfighting technology. These ships will be capable of performing a range of deterrence, power projection, sea control, and command and control missions while allowing the Navy to evolve with new systems and missions.
DDG 1001 was christened in June 2016, and is scheduled to deliver in the coming months. BIW is currently in production on the future USS Lyndon B. Johnson (DDG 1002), as well as future Arleigh Burke class destroyers Thomas Hudner (DDG 116), Daniel Inouye (DDG 118), Carl M. Levin (DDG 120) and John Basilone (DDG 122).

First ship of the class USS Zumwalt (DDG 1000) was commissioned into active service Saturday, Oct. 15 2017, at North Locust Point in Baltimore. GD BIW laid the keel of the future USS Lyndon B. Johnson (DDG 1002) in January 2017. DDG 1002 will be the third and final Zumwalt-class Destroyer.

The ship features two advanced gun systems originally designed to fire long-range land attack projectiles that reach up to 63 nautical miles, providing precision, high volume and persistent fire support to forces ashore, along with an approximate five-fold improvement in naval surface fire range. The U.S. Navy is now looking for a new 155mm ammunition for the BAE Systems-built Advanced Gun System (AGS).

DDG 1000 will employ active and passive sensors and a multi-function radar capable of conducting area air surveillance, including over-land, throughout the extremely difficult and cluttered sea-land interface.

Link to Zumwalt-class destroyer technical datasheet
---