---
The Pacific fleet is likely to get four upgraded cruise missile nuclear submarines (SSGN) of project 949A by 2021, Deputy Defense Minister Yuri Borisov said. "We discussed the issue today and believe 2021 is a real deadline," he said during a visit to Zvezda shipyard in the Far East.
---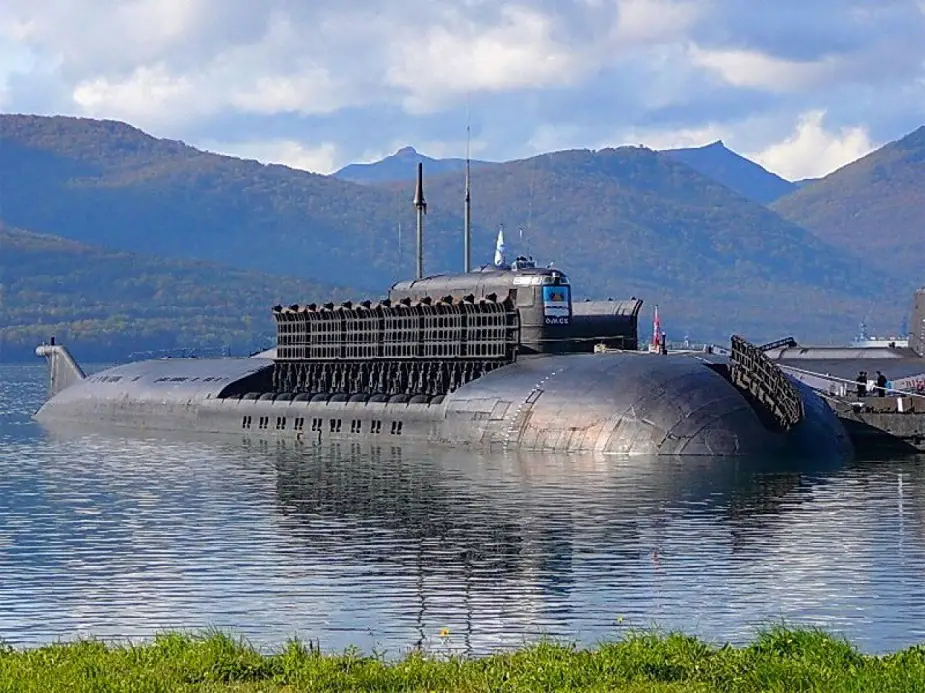 Russian Navy submarine Omsk (K-186), a Project 949A SSGN (NATO designation: Oscar II), with all missile hatches opened. The class is being modified to launch Kalibr SLCM. Picture via airbase.ru
---
The Pacific fleet may get the K-186 Omsk submarine of project 949A already this year. It was initially planned for commissioning in 2019.

The shipyard will in the near future engage in maintenance and upgrade of Borey-class submarines of project 955. "New Borey will come here. Zvezda will service, maintain and upgrade the force," Borisov said.

Project 949A submarines have a considerable set of arms: six 650 and 533mm torpedo launchers and 24 Granit P-700 antiship missile launchers. The submarines will be reportedly rearmed with Kalibr and Onix missiles. Open sources said each upgraded project 949A SSGN can carry 72 precision Kalibr missiles. Thus, one P-700 launcher will be replaced with three inclined Kalibr launchers.

Eleven submarines were built and eight remain operational in the Russian Navy. Their displacement is 24 thousand tons.

"The Defense Ministry is considering to add load on the shipyard also with orders for auxiliary vessels. The Zvezda is the leading enterprise in maintenance and construction of warships for the Pacific fleet. We discussed the 2017 program and plans for the near future. After the shipyard went under Rosneft control the situation stabilized," Borisov said.

The shipyard created unique facilities to recycle 35 thousand tons of metal a year. "It is a major indicator and the quality is unique due to new technologies," Borisov said.

The shipyard has debts because of documentation delays. "There are payables and we believe the seven billion rubles will be repaid by the end of the first quarter," the deputy minister said.
---
© Copyright 2018 TASS. All rights reserved. This material may not be published, broadcast, rewritten or redistributed.
---