---
Hyundai Heavy Industries (HHI) started construction of the Royal New Zealand Navy (RNZN) future fleet tanker HMNZS Aotearoa. The first steel cutting ceremony took place on January 31st 2018 at HHI's Ulsan shipyard in South Korea.
---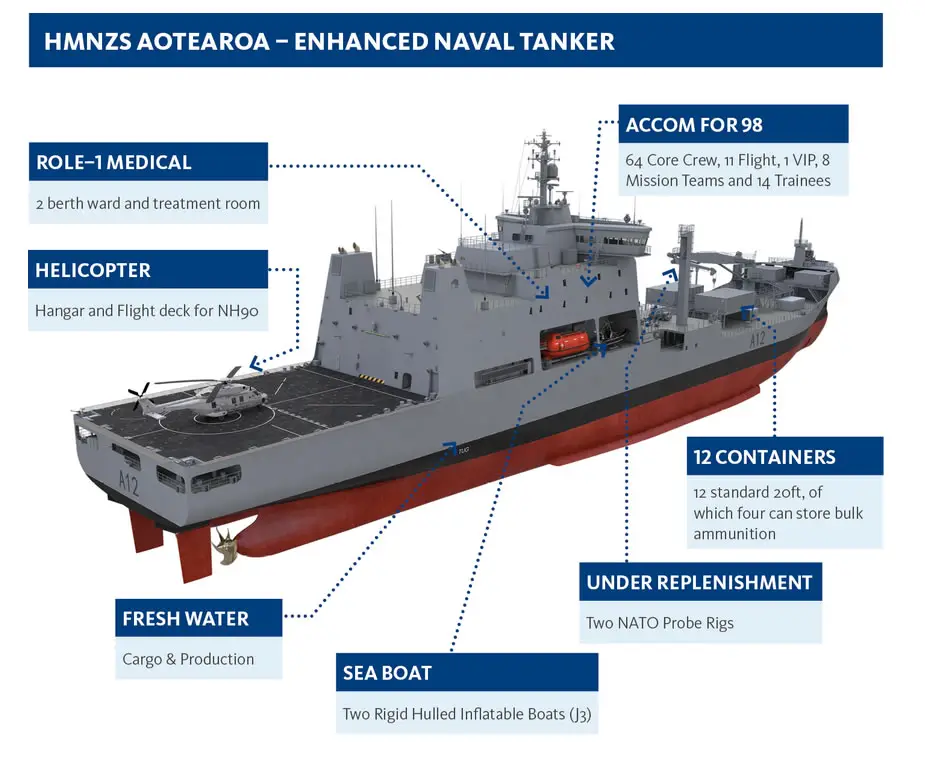 (Picture source: Royal New Zealand Navy)
---
HMNZS Aotearoa will replace the fleet tanker HMNZS Endeavour that decommissions next year after more than 30 years of loyal service. Aotearoa will boast state of the art design and capability features including ice-strengthening and 'winterisation' features for operations in Antarctica. She will also be able to carry 12 containers of supplies and have the ability to produce 100 tonnes of fresh water each day which will make her invaluable when providing humanitarian aid and disaster relief.

She will carry 8,000 tonnes of diesel fuel which is enough to 'fill up' a frigate like Te Mana or Te Kaha 13.87 times. And she'll be able to carry and operate a RNZAF NH90 helicopter. Aotearoa will have a core crew of 64 plus 11 flight crew.

The 24,000-tonne vessel is set to become the largest vessel ever operated by the Royal New Zealand Navy. It will be launched in March next year, and enter service in 2020.
---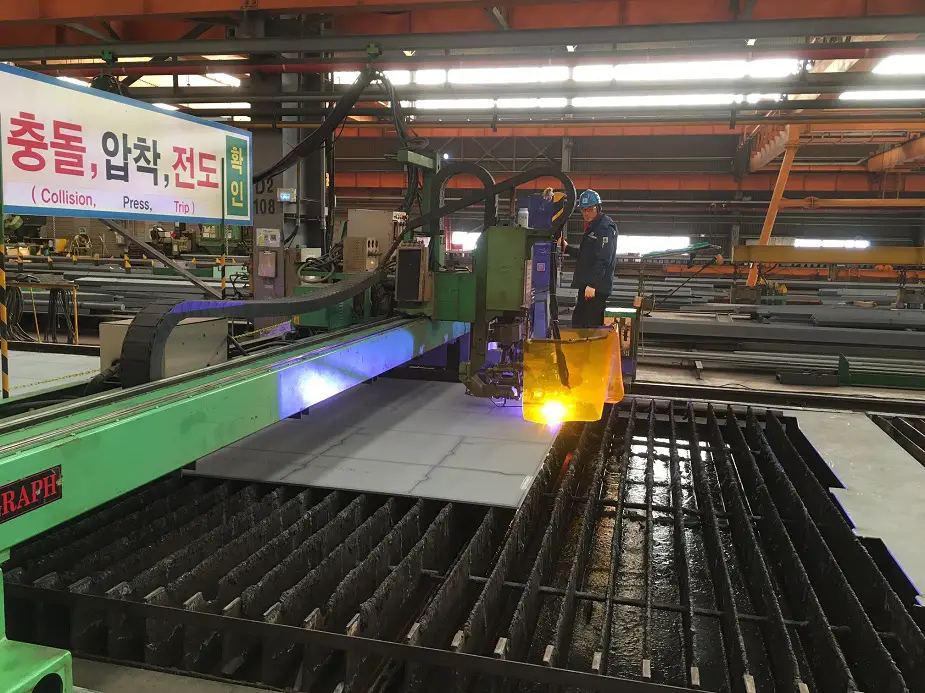 First steel cut for New Zealand's future fleet tanker. Picture source: Royal New Zealand Navy
---
HMNZS Aotearoa will be a world-first naval "Environship", with Hyundai using the Rolls-Royce Environship concept design under licence. The design incorporates a new wave-piercing hull, which reduces resistance and lowers fuel use, while its combined diesel electric and diesel propulsion plant has lower fuel emissions than older vessels.
The design and capabilities of HMNZS Aotearoa were announced by the Ministry of Defence in 2016. The cost includes the tanker's enhanced "winterisation" capabilities, such as ice-strengthening for operations in Antarctica, including resupplying McMurdo Station and Scott Base. HMNZS Endeavour is not Antarctic-capable.
---
Our video coverage on the design at Euronaval 2016

---
New Zealand's Defence Minister Gerry Brownlee announced in July 2016 that HHI of South Korea won a contract to build and deliver a new tanker for the Royal New Zealand Navy. HHI beat rival DSME in the tender worth close to $500 million.

The original requirements as drafted by the New Zealand Navy included the capability of refuelling and sustaining the Joint Task Force both at-sea and from-the-sea as well as the ability to support ground forces, humanitarian assistance and disaster relief missions, primarily within the Pacific region.
---