---
For the first time ever a giant RAF Chinook helicopter has been stowed in the hangar of a British aircraft carrier. With the nose protruding over the edge of one of HMS Queen Elizabeth's two mighty aircraft lifts, the 99ft-long helicopter from RAF 7 Squadron was moved from the flight to the hangar deck.
---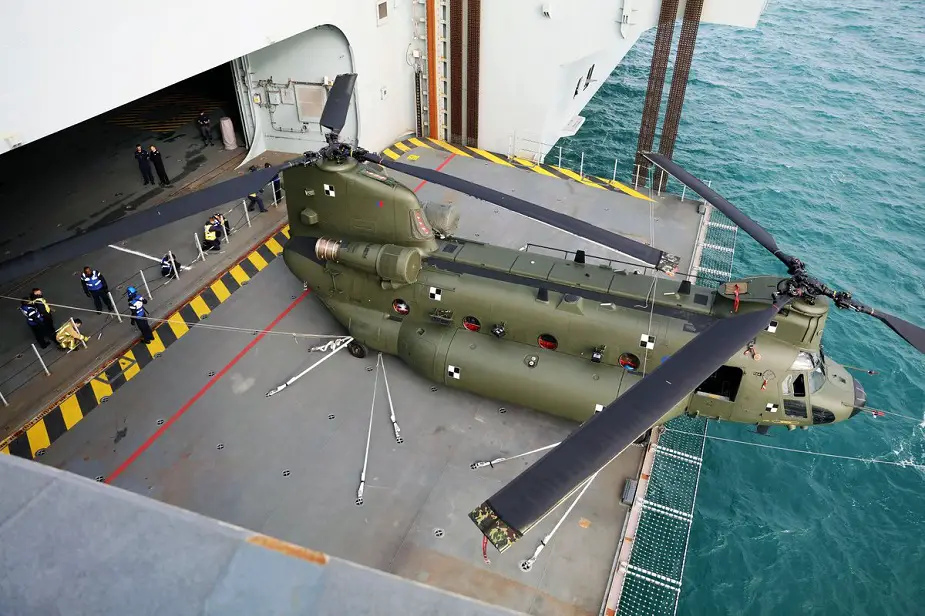 Whilst HMS Queen Elizabeth is conducting Sea Trails around the south coast of Britain, she embarked different variants of Merlin Helicopters from 820 and 845 Naval Air Squadrons along with CH47 Chinook Helicopters. Royal Navy picture.

---
So large are the lifts and hangar spaces on the new Portsmouth-based warship that there's no need even to fold the rotors.
There ZH902 – a special trials variant of the Chinook – was joined by a second helicopter, and two Merlins, all from the Aircraft Test and Evaluation Centre (ATEC) at MOD Boscombe Down, and a couple of Merlin Mk2s from 820 Naval Air Squadron.
All six helicopters are onboard Queen Elizabeth for trials, finding out what the operating parameters are of the airframes flying from the carrier at sea.
They were transferred to the hangar in advance of rough weather as the 65,000-tonne warship – the largest vessel ever built for the Royal Navy – made her way towards Gibraltar, keeping the helicopters out of harm's way of the elements.
---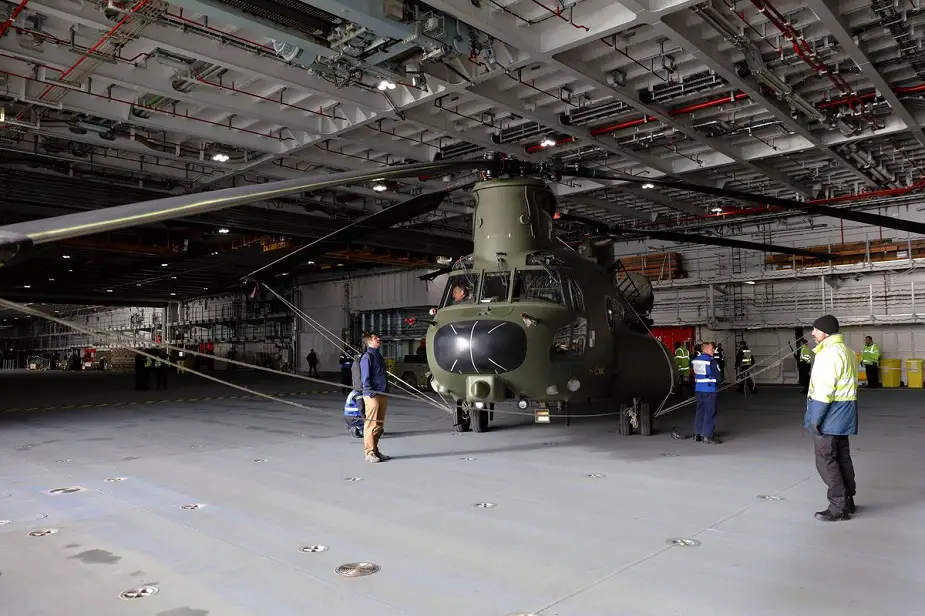 CH47 Chinook Helicopter inside HMS Queen Elizabeth hangar. Royal Navy picture.

---
The painstaking process to bring the Chinooks in for the very first time took almost two hours, with the nosecone hanging precariously over the aircraft lift (powerful enough to raise or lower two F-35B Lightning II jets or half the 700-strong ship's company). With practice it will take a fraction of that time.
The Royal Navy's new aircraft carrier HMS Queen Elizabeth arrived in Gibraltar for her first overseas port visit. The 65,000-tonne future flagship will be conducting a routine logistics stop having left her home in Portsmouth last week for helicopter trials. These helicopter trials take place before the fixed wing F35 Lightning II trials later this year.
On leaving Gibraltar HMS Queen Elizabeth will return to sea to conduct helicopter trials with specially equipped Merlin and Chinook aircraft from the Aircraft Test and Evaluation Centre at MOD Boscombe Down. The data collected will be analysed to work out their operating parameters at sea, ahead of fixed wing flying trials with the F-35B Lightning II Joint Strike Fighter off the east coast of the United States in the summer.
---