---
Russia's newest Project 12701 Alexandrite-E-class mine countermeasures vessel (MCMV; an export-oriented variant of the Russian Navy's Project 12700 Alexandrite-class MCMV) will receive an indigenous system to clear sea mines, the United Shipbuilding Corporation (USC) told the TASS news agency on November 26.
Follow Navy Recognition on Google News at this link
---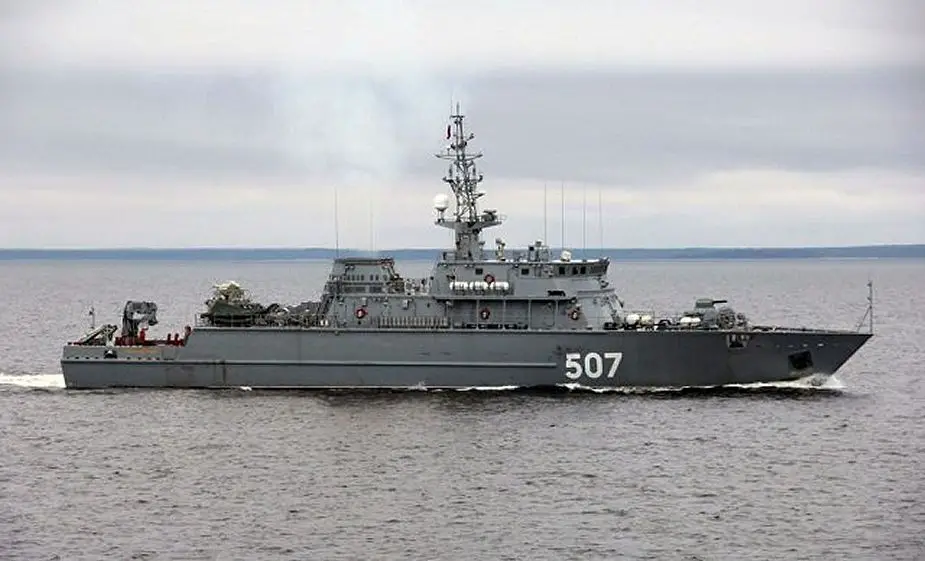 Project 12700 Aleksandrit class minesweeper, of which Project 12701 Alexandrite-E-class is the new export version, hence the "E" in the project designation (Picture source : Twitter account of Naval War College)
---
«We are ready to offer the Alexandrite-ISPUM-E integrated mine clearance system for the Project 12701 MCMV. This Russian-designed unit confirmed its declared specifications during operations of Project 12700 ships,» said the corporation. According to USC, the Project 12701 MCMV is also fitted with both innovative counter-mine robots and traditional contact/influence sweeps.
Moreover, the Project 12701 MCMV can be fitted with counter-mine systems designed by other manufacturers. «At the same time, foreign counter-mine systems can be installed at the customer's request,» said the USC.
The Project 12700/12701 MCMVs also carry new net-centric units to control counter-mine assets. «The ship has received an automated control system that allows integration of various counter-mine systems. It supports information sharing between both [counter-mine] systems and ships,» said the corporation.
According to USC, the Project 12701 Alexandrite-E MCMV has a displacement of 890 t and is 61.60 m long and 10.30 m wide. The naval platform is intended for counter-mine protection of naval bases, offshore areas, exclusive economic zones, and maritime mineral deposits; detection and destruction of all types of sea mines; counter-mine protection of blue force ships during sea cruises; counter-mine reconnaissance; and deployment of sea mines.
*The Project 12701 vessel is believed to have a decent export potential. In March, Director of the Federal Service for Military-Technical Cooperation (FSVTS) Dmitry Shugayev told Russian media that Russia would enter an Indian competition for a new MCMV with the Alexandrite-E ship.*
The MCMV features a draught of some 3.10 m. The platform is powered by two diesel engines with a power output of 2,500 hp each, producing a speed of 16 knots, a cruise range of 1,500 nautical miles, and an endurance of 10 days. The vessel is manned by a 44-strong crew.
The Alexandrite-E's sensor suite integrates the Diez-12700E control system, Livadiya-ME mine detection sonar, two Alister 9 counter-mine unmanned underwater vehicles (UUVs), two K-Ster I UUVs, 10 K-Ster C disposable remotely operated vehicles, an Inspector-Mk.2 unmanned surface vehicle, a GKT-2 or GOKT-1 contact mine sweep system, and a ShAT-U sonar mine sweep system. The Project 12701 MCMV also carries some armaments, including an AK-306 30 mm close-in weapon system, eight short-range surface-to-air missiles, and an MTPU naval gun mount with a 14.5 mm heavy machinegun (this weapon system can be replaced by two 6P59 12.7 mm heavy machineguns).
---
© Copyright 2020 TASS Navy Recognition. All rights reserved. This material may not be published, broadcast, rewritten or redistributed.
---