---
According to information published by the Royal Malaysian Navy on April 14, 2021, Jerong-class KD Jerong which is one of the ships in the Fast Attack Craft (FAC), is the fifth ship to complete a modernization program involving the propulsion system.
Follow Navy Recognition on Google News at this link
---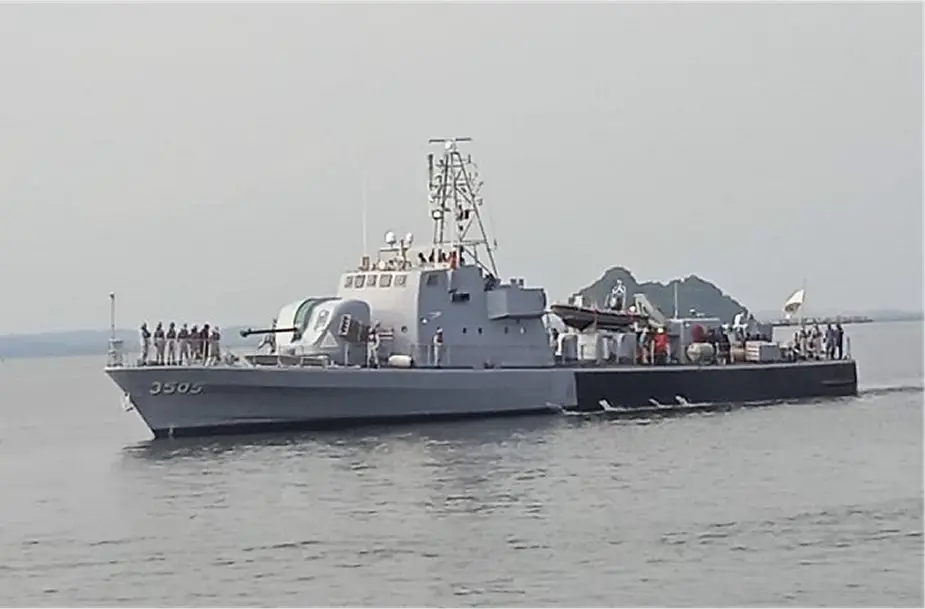 Jerong-class KD Jerong 3505 (Picture source: Royal Malaysian Navy)
---
The Jerong class is a variant of Lurssen FPB/TNC-45 vessels that was completed to a less formidable FAC-(G ) configuration, with lighter arms and a less sophisticated electronics fit. They were ordered based on three rather than four shaft propulsion arrangement that is common to the class, therefore they were built to a reduced performance specification.
Ordered in 1973, the vessels were licensed-built locally by Hong-Leong Lurssen Shipyards under a major technology transfer program. Unlike the missile-armed FAC squadrons of the navy, the Jerong class is equipped only with a main gun for closed-in combat and fire support. As such, they are capable as far as gunboats go for peacetime duties of patrolling the Exclusive Economic Zone, intercepting illegal immigrants from neighbouring countries and conducting anti-piracy operations.
However, they are of limited use in a shooting war except for naval bombardment or possibly for guerrilla-type tactics of naval warfare, as hull space constraints do not allow the installation of a sophisticated sensor system and extended operations in open sea conditions. In such guerrilla action, these smaller combatants would still be able to trouble the larger intruders with a 'hit-and-run' strategy by packing a mean punch that belies their small size and lack of high-technology gadgetry. In the meantime, they are expected to assume a greater share of coastal patrol duties upon the final decommissioning of the navy's patrol craft squadrons.
The TNC 45 is a class of missile boats designed and built by Lurssen Shipyard in Germany to operate in the littoral environment. Lurssen delivered 25 boats to several Navies worldwide in the 1970s and 1980s. These ships have been designed to perform anti-surface warfare (ASuW) utilizing two/four MM38/40 Exocet anti-ship missiles and a 76mm OTO dual-purpose gun. Besides, these ships are fitted with two 7.62mm machine guns and one 40mm anti-aircraft gun. The propulsion system is based on four diesel engines developing 13,000-shp and allowing a top speed in excess of 41 knots. The ship also includes Sea Giraffe 50 air and surface search radar, or an alternative radar, along with fire control system, jammer and chaff dispenser.
---