---
According to information published by the French Ministry of Armed Forces on April 13, 2021, Florence Parly visited the shipyard of the Rubis-class nuclear-powered attack submarine, Perle (S606) in Cherbourg, which is currently being repaired.
Follow Navy Recognition on Google News at this link
---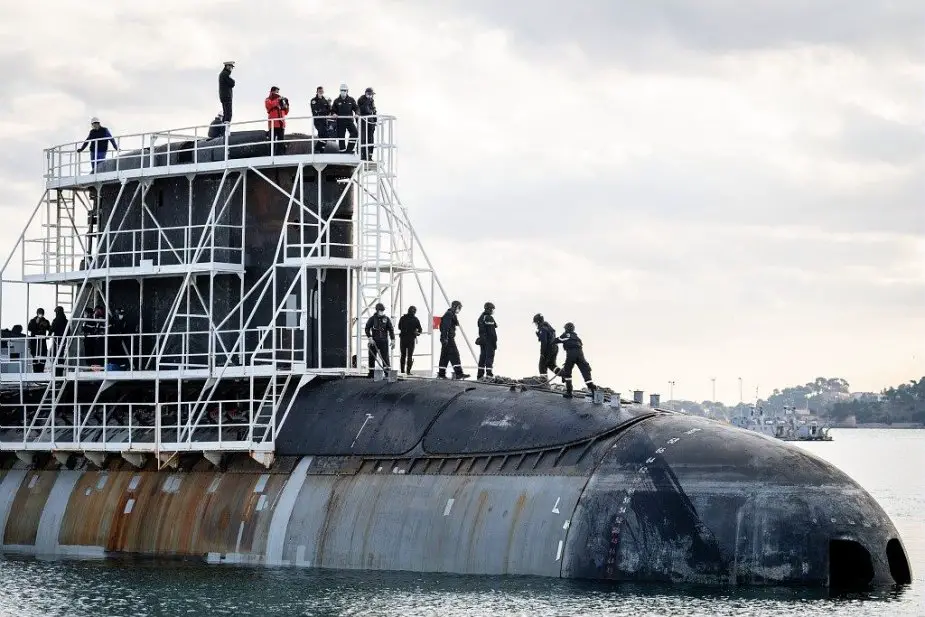 Rubis-class nuclear-powered attack submarine Perle S606 (Picture source: Twitter account of Cherbourg-en-Cotentin)
---
Organized in coordination by the French Navy and the Fleet Support Service on the one hand, and the industrial Naval Group on the other hand, the repair of the Perle SSN will make it possible to maintain the operational capacity of the Strategic Oceanic Force (FOST, Force Océanique Stratégique) at its best.
The front part of the submarine having been damaged by the fire, the solution adopted will consist in replacing it with that of the SSN Saphir, withdrawn from active service in the summer of 2019. This repair will make it possible to maintain the current format of the nuclear attack submarine fleet.
The Rubis type is a nuclear attack submarine operated by the French Navy. The class comprises six vessels and they are the most compact nuclear attack submarines to date.
Rubis-class submarines are powered by two turbo-alternators; one main motor (with an emergency electric motor); one CAS 48 pressurized water-cooled nuclear reactor rated at 48 MW; one Jeumont-Schneider auxiliary diesel-electric motor, providing a top speed of 25 knots. The Rubis-class submarines 48 MW reactor needs no refueling for 30 years. Armament consists of Aerospatiale SM 39 Exocet anti-ship missiles launched from four 533 mm torpedo tubes; ECAN L5 Mod 3 dual-purpose torpedoes; or up to 32 FG 29 mines carried in lieu of torpedoes.
The Rubis-class attackers adopted a nuclear turbine electric propulsion method that makes the most of the existing hull. This method is a method of generating electricity by rotating the generator with high-pressure steam generated by operating the boiler with nuclear power. The electricity generated is rotated to propel the electric motor again, and this method was developed as a concept that replaced only the diesel engine with the nuclear reactor in the existing diesel-electric propulsion submarine. The French Navy's unique nuclear turbine electric propulsion method has the advantage of low noise during the voyage, but it is not used by other navies because of its complexity, weight, and reliability. However, the French Navy is applying its own unique technology to all nuclear-powered submarines. The nuclear reactor, which is the core of the nuclear propulsion engine, uses pressurized water reactors.
---