---
According to information published by Tass on April 15, 2021, the Project 23120 logistics support vessel Vsevolod Bobrov built by the Severnaya Verf Shipyard has passed another stage of its shipbuilders sea trials in the Gulf of Finland, the Defense Ministry's press office said.
Follow Navy Recognition on Google News at this link
---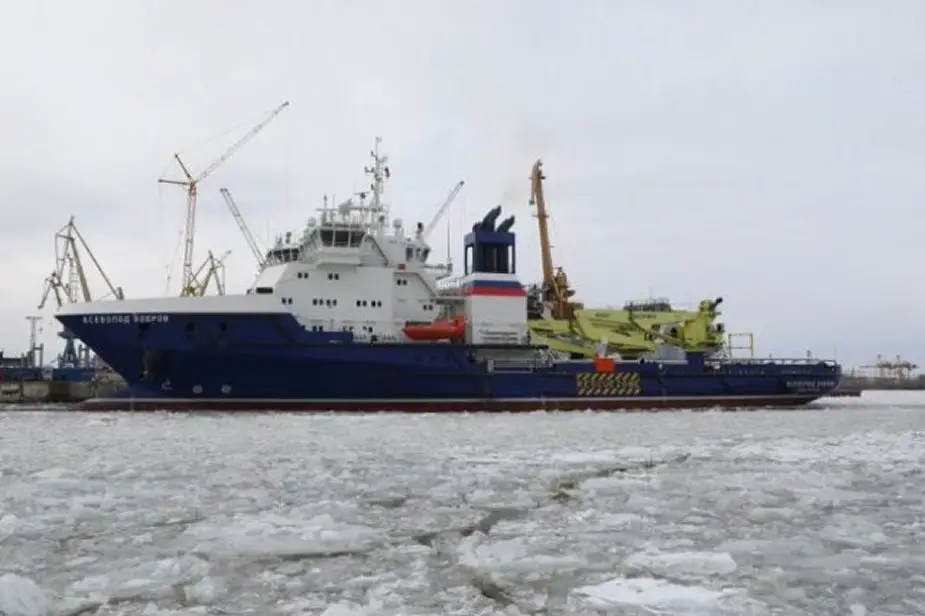 Russian Navy Elbrus-class supply vessel of project 23120 (Picture source: VPK)
---
The Severnaya Verf Shipyard is a subsidiary of the United Shipbuilding Corporation.
"During the trials, crane and towing equipment, communication and navigation systems, and the propulsion unit were checked. Before the next stage of the sea trials, the vessel's sea valves will undergo a planned short dock examination at the Severnaya Verf Shipyard," the press office said.
Earlier, during the second stage of the shipbuilders sea trials, the Vsevolod Bobrov practiced towing a vessel of the same displacement for four hours.
The sea trials in the Baltic Sea will last about a month.
The trial crew of more than 100 persons and the vessel's crewmen will take part in the tests. The trial crew will check the main powerplant, other systems and mechanisms, cranes and hoists at sea.
The Vsevolod Bobrov is the second Project 23120 vessel built by the Severnaya Verf Shipyard. The Elbrus lead vessel joined the Northern Fleet in 2018. In 2019, it made a 175-day round-the-world voyage with other Russian warships led by the Project 22350 frigate Admiral Gorshkov. The Project 23120 was upgraded according to the results of the operation of the lead vessel. In particular, its deck has been improved and communication and navigation systems have been upgraded.
The Vsevolod Bobrov is the second supply vessel of project 23120 built by the shipyard. The Elbrus lead vessel joined the Northern fleet in 2018. It made a successful 175-day round-the-world voyage in a group of Russian warships in 2019.
The vessel is multifunctional: it can carry out loading, transportation and transfer of goods; tow ships, up to the aircraft carrier; participate in rescue operations and provide medical assistance to those in distress (equipped with a pressure chamber for decompression); conduct mapping of the bottom topography and search for sunken objects. The hull of the vessel with the ice class ARC4 will allow it to sail in the Arctic latitudes, overcoming the ice thickness of 0,6 m.
The Vsevolod Bobrov has a length of 95m and a width of 22 m with a maximum draught of 9m. The vessel can accommodate a crew of 27 people and up to 43 rescuees. It can store and transport payloads weighing 4.5t or up to 40 shipping containers. The deck is equipped with two large, collapsible, electro-hydraulic cranes towards the stern to lift cargo weighing up to 50t. It is also outfitted with main and auxiliary towing winches with a pulling capacity of 120t and 25t respectively for towing ships in distress.
---