---
According to information published by the Egyptian Ministry of Defense on April 14, 2021, ENS Bernees 1003, FREMM Carlo Bergamini-class, constructed by Italian company Fincantieri arrived at the Alexandria Naval Base to join the Egyptian Navy's fleet.
Follow Navy Recognition on Google News at this link
---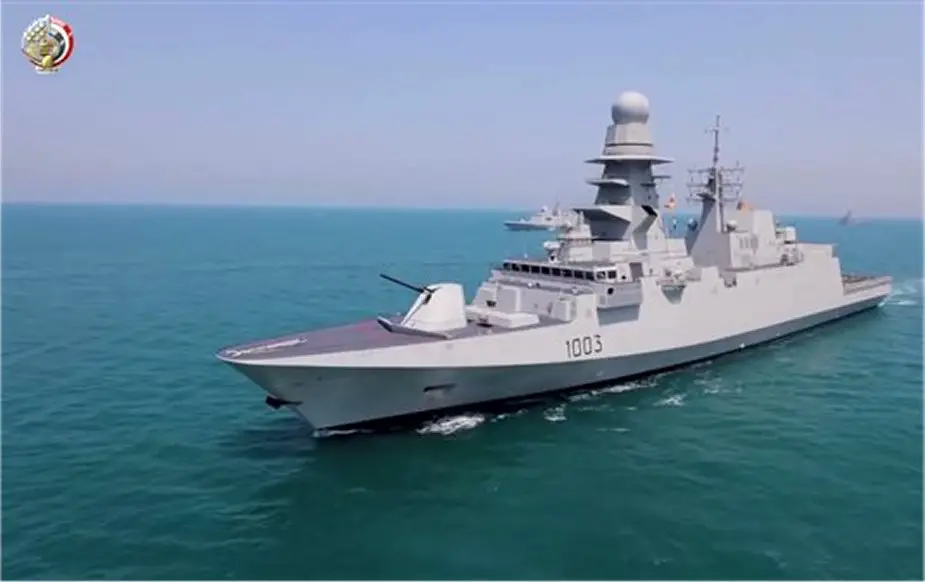 Carlo Bergamini-class ENS Bernees 1003 (Picture source: El Yom)
---
ENS Bernees was originally constructed as the Carlo Bergamini-class Emilio Bianchi before being acquired by Egyptian Navy and being renamed.
The "Emilio Bianchi" vessel, like the other units, features a high degree of flexibility, capable of operating in all tactical situations. 144 meters long with a beam of 19.7 meters, the ship has a displacement at a full load of approximately 6,700 tones. The vessel has a maximum speed of over 27 knots and has a maximum accommodation capacity for a 200-person crew.
The FREMM is a class of multi-purpose frigates designed by French company Naval Group and Fincantieri from Italy for the navies of France and Italy. The FREMM program consists of the construction of 18 ships: 8 for France, 10 for Italy. The first FREMM was delivered in 2012 and the objective of contractual delivery is 2022 for the whole 18 frigates.
The Italian FREMM is also being developed in two designs: Anti Submarine Warfare (ASW) and General Purpose (armed with DCNS Sylver A-50 Vertical Launching System / VLS), with the possibility to perform a wide range of operational missions. The Italian versions also operate with a reduced crew thanks to Human Factors optimizations and a high level of automation with 2 helicopters (with two crews), a federated Combat Management System, and a higher level of maintainers embarked to ensure greater flexibility.
---