---
According to information published by Mercopress on December 6, 2021, Argentina's Defense Minister Jorge Taiana took delivery of the new Gowind-class Offshore Patrol Vessel ARA Storni (P-53) from France.
Follow Navy Recognition on Google News at this link
---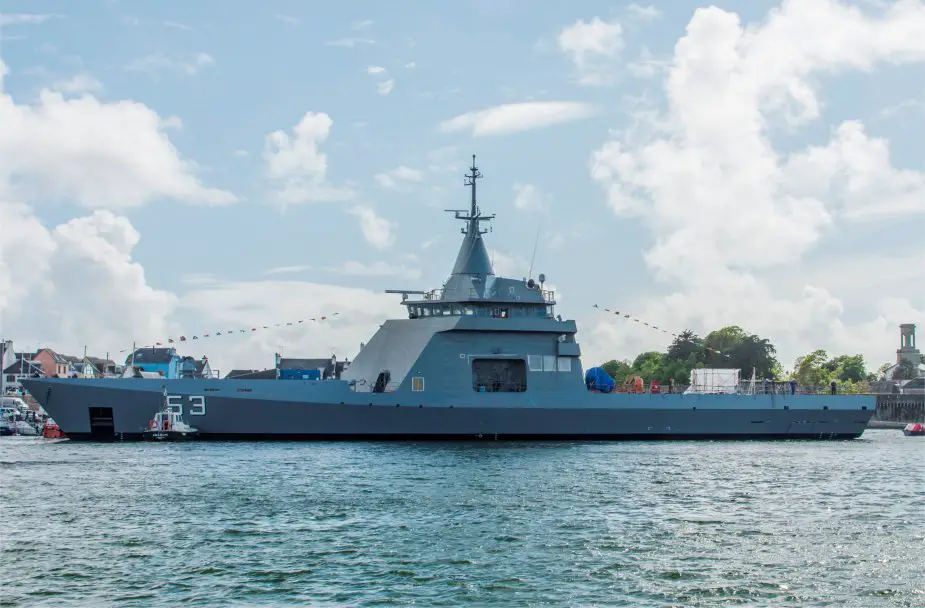 Gowind-class Offshore Patrol Vessel ARA Storni (Picture source: Naval Group)
---
ARA Almirante Storni (P-53) is the third Gowind-class offshore patrol vessel constructed for the Argentinian Navy.
The French Shipbuilder Naval Group launched the hull of ARA Almirante Storni on 10 May 2021 at Lanester, before moving it to Concarneau for fitting out.
The Gowind design is a family of steel monohull frigates, corvettes, and offshore patrol vessels developed in 2006 by France's Naval Group, formerly known as DCNS, to conduct missions in the littoral zone such as anti-submarine warfare (ASW).
The Gowind family includes vessels with lengths from 85 to 111 meters (278 ft 10 into 364 ft 2 in) and displacement from 1,000 tons to 3,100 tons.
The Gowind design can deploy unmanned aerial vehicles (UAVs), unmanned surface vehicles (USVs), and underwater unmanned vehicles (UUVs). An aft deck has been provided allowing for a 10-ton class helicopter or UAV operations.
The platform's weapon system consists of multi-functional radar and MICA surface-to-air missiles (SAM). It is armed with Exocet anti-ship missiles. The propulsion system is based on Combined Diesel and Diesel (CODAD) and includes water jets for improved maneuverability in shallow waters and high-speed performance.
---