---
According to information published by Tass on July 5, 2021, Russia's Almaz-Antey concern has developed its newest Palma naval anti-aircraft gun-missile (AAGM) system. The presentation of the new weapon took place at the International Maritime Defence Show 2021 held in late June in Saint Petersburg, Russia.
Follow Navy Recognition on Google News at this link
---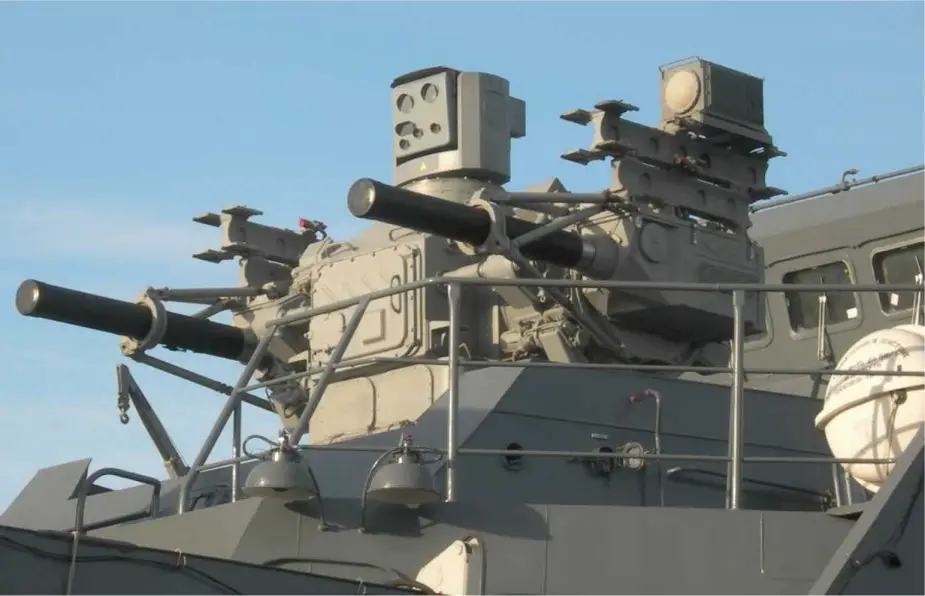 Palma naval anti-aircraft gun-missile (AAGM) system (Picture source: Rosoboronexport)
---
The Palma is configured as a single combat module, with gun and missile armament mounted on a single pedestal. According to Rosoboronexport arms exporting company (a subsidiary of state corporation Rostec), the new air defence weapon carries two AO-18KD 30 mm close-in automatic guns, two four-cell banks with Sosna-R laser beam-riding short-rang surface-to-air missiles (SAMs), and an optical-electronic sensor suite.
The Palma uses its artillery component to engage aerial targets at distances between 0.2 km and 4 km, while the SAMs are capable of engaging aerial targets at a range of up to 10 km. The system has a target engagement altitude of up to 3 km (for the artillery component) or up to 5 km (for the missiles). The guns produce a rate of fire of up to 10,000 rounds per minute.
The Palma's ammunition load integrates 1,000 30 mm cartridges and eight ready-use missiles. The station's reaction time reaches 3-5 seconds. A combat module of the Palma weighs 6,900 kg and can be mounted on small surface ships.
The new air defense weapon is integrated with a day/night all-weather two-channel optical-electronic fire-control system (FCS). The FCS and the sensor suite feature fully automated combat processes, decent jamming resistance, and lack of electromagnetic emitters.
According to Rosoboronexport, the Palma is capable of engaging anti-ship missiles at extremely low altitudes, and low-size surface targets and rigid-frame inflatable boats. The system is believed to have relatively high effectiveness against shipborne unmanned aerial vehicles (including combat ones).
The Palma naval AAGM system has already been integrated with the export-oriented Project 22160E guided missiles corvette. The ship is reported to carry a combat station of the system.
Project 22160 is a series of large patrol ships being constructed for the Russian Navy. The vessels are primarily intended for duties such as patrol, monitoring and protection in open and closed seas. The first ship was laid down in February 2014 and by December 2016 five ships were under construction. The first ship joined the Russian Navy in December 2018.
JSC Concern VKO "Almaz-Antey" is a Russian state-owned company in the arms industry, a result of a merger of Antey Corporation and NPO Almaz, unifying some of the national military enterprises, in particular, the developers of anti-aircraft defence systems. The organisation is headquartered in Moscow and is the world's 8th-largest defence contractor measured by 2017 defence revenues.
---
© Copyright 2021 TASS Navy Recognition. All rights reserved. This material may not be published, broadcast, rewritten or redistributed.
---