---
According to a press release published by Schiebel on July 26, 2021, the Royal Australian Navy (RAN) awarded Schiebel with a 3-year extension contract for the sustainment of its CAMCOPTER® S-100. The extension allows the RAN to continue to experiment and develop knowledge using the S-100.
Follow Navy Recognition on Google News at this link
---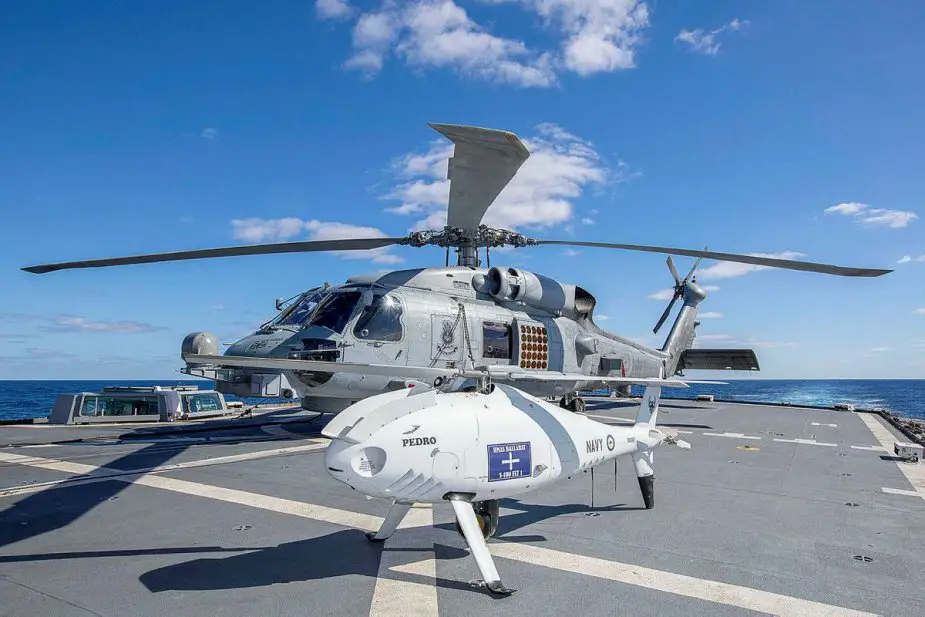 HMAS Ballarat's embarked MH-60R and S-100 Schiebel Camcopter on the flight deck during Exercise Talisman Sabre (Picture source: Royal Australian Navy)
---
After winning the RAN contract back in 2016, Schiebel has built on its initial acquisition contract resulting in this substantial extension. The contract includes field support services, engineering and logistics elements, as well as the creation of a sovereign Australian CAMCOPTER® S-100 training capability delivered by Schiebel Pacific Pty Ltd.
Schiebel's CAMCOPTER® S-100 Unmanned Air System (UAS) is an operationally proven capability for military and civilian applications. The Vertical Takeoff and Landing (VTOL) UAS requires no prepared area or supporting equipment to enable launch and recovery.
It operates by day and by night, under adverse weather conditions, with a beyond line-of-sight capability out to 200 km / 108 nm, over land and sea. Its carbon fiber and titanium fuselage provides capacity for a wide range of payload/endurance combinations up to a service ceiling of 5,500 m / 18,000 ft. In a typical configuration, the CAMCOPTER® S-100 carries a 34-kg / 75-lbs payload up to 10 hours and is powered with AVGas or JP-5 heavy fuel. High-definition payload imagery is transmitted to the control station in real-time.
In addition to its standard GPS waypoint or manual navigation, the S-100 can successfully operate in environments where GPS is not available, with missions planned and controlled via a simple point-and click graphical user interface.
This contract extension comes after Camcopter's utilisation as part of Exercise Talisman Sabre (TS21) with an MH-60R helicopter, and HMAS Ballarat.
---