---
According to information published by Murcia Plaza on June 2, 2021, the Spanish Ministry of Defense commissioned Roro Reina Ysabel A06 in Cartagena. The vessel named originally Galicia and built in 2003, was renamed by the Navy.
Follow Navy Recognition on Google News at this link
---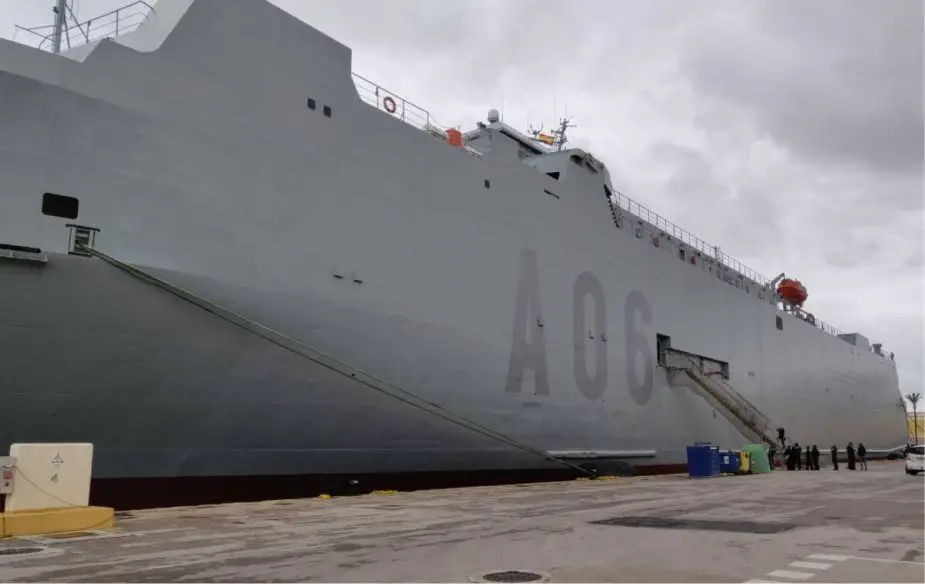 RoRo Reina Ysabel vessel A06 (Picture source: Plataforma Millan Astray)
---
Reina Ysabel has a length of 149,38 m, a beam of 21 m. She can reach a top speed of 18 knots, a cruising range of 7200 miles and she can carry a crew of 18 sailors and 110 trailers.
Roll-on/roll-off (RORO or ro-ro) ships are cargo ships designed to carry wheeled cargo, such as cars, trucks, semi-trailer trucks, buses, trailers, and railroad cars, that are driven on and off the ship on their own wheels or using a platform vehicle, such as a self-propelled modular transporter. This is in contrast to lift-on/lift-off (LoLo) vessels, which use a crane to load and unload cargo.
RORO vessels have either built-in or shore-based ramps or ferry slips that allow the cargo to be efficiently rolled on and off the vessel when in port. While smaller ferries that operate across rivers and other short distances often have built-in ramps, the term RORO is generally reserved for large oceangoing vessels. The ramps and doors may be located in the stern, bow, or sides, or any combination thereof.
Types of RORO vessels include ferries, cruise ferries, cargo ships, barges, and RoRo service for air deliveries. New automobiles that are transported by ship are often moved on a large type of RORO called a pure car carrier (PCC) or pure car/truck carrier (PCTC).
Elsewhere in the shipping industry, cargo is normally measured by the metric tonne, but RORO cargo is typically measured in lanes in meters (LIMs). This is calculated by multiplying the cargo length in meters by the number of decks and by its width in lanes (lane width differs from vessel to vessel, and there are several industry standards).
---