---
According to a press release published by Babcock on June 23, 2021, the company has signed a tripartite Memorandum of Implementation (MoI) in Odesa with the Ministry of Defence of Ukraine and the UK Government. Building on the agreement signed in October 2020, the two nations will now push forward a major programme of Ukrainian naval projects, with Babcock as their designated prime industrial partner.
Follow Navy Recognition on Google News at this link
---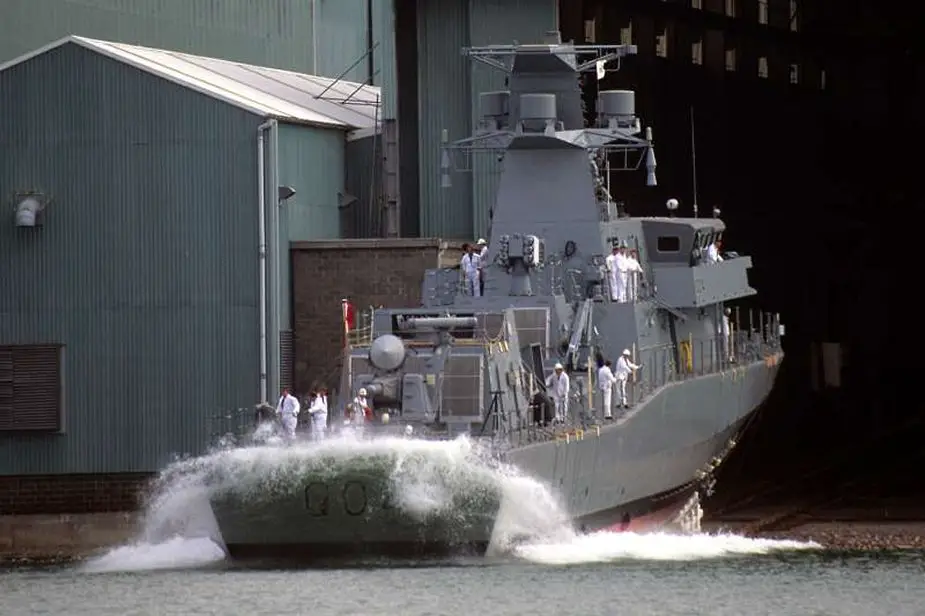 QENS Barzan from the Qatari Navy during the launch ceremony in Southampton (Picture source: Shipspotting)
---
Building on the agreement signed in October 2020, the two nations will now push forward a major programme of Ukrainian naval projects, with Babcock as their designated prime industrial partner.
Reflecting Babcock's extensive naval experience and capabilities, the Group has been chosen to lead in the delivery of the scope of the broad ranging Ukrainian Naval Capabilities Enhancement Programme (UNCEP).
The programme includes the enhancement of capabilities on existing naval platforms, the delivery of new platforms, including fast attack missile craft, a modern frigate capability, shipborne armaments and the training of naval personnel. It also involves working together to regenerate Ukrainian shipyards by developing, implementing and completing a Shipyard Regeneration Plan.
Babcock CEO David Lockwood joined Deputy Minister of Defence of Ukraine Oleksandr Myroniuk, UK Minister for Defence Procurement Jeremy Quin and First Sea Lord Admiral Sir Tony Radakin to sign the MoI on-board the UK Royal Navy's Type 45 destroyer HMS Defender, which is part of the UK's Carrier Strike Group.
Babcock will lead British and Ukrainian industrial partners to assist the Ukrainian Ministry of Defence in delivering these projects. Working collaboratively, these teams will be fully integrated within the projects, building ownership and expertise through technical and knowledge transfer and enabling Ukraine to develop a modern naval fleet and support capability.
Babcock will be supported by several other companies with a strong UK presence, including MBDA, Thales, and Royal Haskoning DHV. They will also be working closely with the Ukrainian industry in developing this programme. Work will now begin on the contracts to implement a number of projects in the programme.
In 2020, Navy Recognition wrote that the United Kingdom could provide Barzan-class fast attack craft to Ukraine.
The Barzan-class is powered by four MTU 20V 538 TB93 diesel engines developing 18.740 hp. The ship can reach a maximum speed of 35 kt with a maximum range of 1,800 nm at 12 kt.
The armament of the Barzan-class includes two four-cell launchers able to launch MM40 Exocet surface-to-surface sea-skimming missiles manufactured by MBDA. The missile has a range from 4 to 70 km and is fitted with a warhead of 165 kg. The ship is also armed with surface-to-air missiles Mistral which have a range of 4 km. The front deck is fitted with an Oto Melara 76mm / 62 Super Rapid naval gun which has a range of 16 km.
---