---
According to information published by The Economic Times on March 16, 2021, India has quietly commissioned its secretive nuclear missile tracking vessel that had been under construction since 2014, entering a select league of nations with the capability to monitor missile launches at long distances, enhancing the testing programme and adding a crucial part to a national missile defence system.
Follow Navy Recognition on Google News at this link
---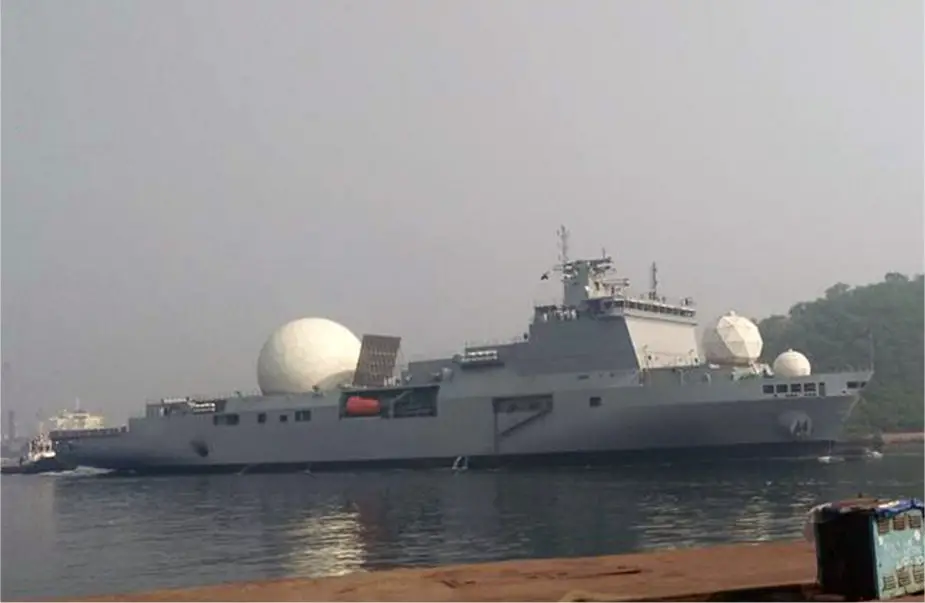 INS Dhruv Ocean Surveillance Ship (Picture source: Defpost)
---
Called the VC 11184, the specialised Ocean Surveillance Ship INS Dhruv was commissioned in October last year in a ceremony that was not made public, sources have told Economic Times.
The ship will be operated by a joint crew of the National Technical Research Organisation (NTRO), the Defence Research and Development Organisation and the Indian Navy.
The vessel will be able to monitor India's developmental trials of missiles of greater range than ever before — virtually unlimited due to its ability to traverse the oceans.
The 15,000 tonne ship, which has specialised surveillance which has specialised surveillance systems of three dome-shaped antennas packed with sensors, has been extensively tested since 2018 by the joint team.
As reported by ET, the complex vessel will generate over 14 MW of power just to power up its tracking radars, which will have multiple roles from tracking enemy missiles to accurately giving data on tests that are routinely carried out of indigenous strategic missiles.
The 15,000 tonne class vessel was initially constructed in a covered dry dock at the Hindustan Shipyard Ltd, the country's largest, to keep roving satellites and spying attempts at bay. However, since 2018 the vessel has been docked in the open, with its large globe shaped radar placed on the aft giving a distinctive visibility to visitors at Vizag.
The ship has a long open deck with space for several tracking antennae located at the aft of the forward superstructure. Designed by Vik Sandvik Design India, it has a length of 175 meters [570 feet], a beam of 22 mt, a depth of 6 mt and 10,000 tons of steel are required for its construction. It has a helicopter deck and hangar with a planned complement of 300 men. Powered by two 9,000 kw engines, the vessel's maximum speed would be 21 knots. CODAD is a propulsion system for ships using two diesel engines to power a single propeller shaft. A gearbox and clutches enable either of the engines or both of them together to drive the shaft.
---