---
According to a press release published by U.S. Department of Defense on March 18, 2021, Raytheon Missiles and Defense, Tucson, Arizona, is awarded a $28,764,014 modification (P00004) to previously awarded, firm-fixed-price, fixed-price incentive (firm target) contract N00019-20-C-0030.
Follow Navy Recognition on Google News at this link
---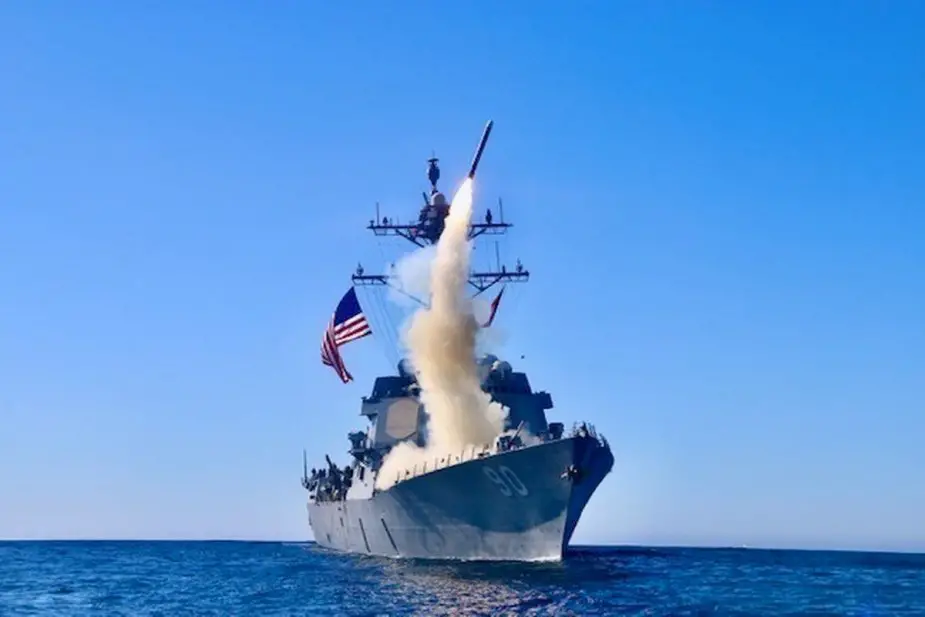 The destroyer Chafee launches a Block V Tomahawk, during a missile exercise. (Picture source: US Navy)
---
This modification adds scope to procure full rate production Lot 17 Block Five Tactical Tomahawk all-up round vertical launch system missiles and associated warranties for the Navy.
Work will be performed in Tucson, Arizona (41.6%); Pontiac, Michigan (11.4%); El Segundo, California (10.6%); Gainesville, Virginia (9.7%); Berryville, Arkansas (3.5%); Clearwater, Florida (3.3%); Middletown, Connecticut (3.2%); Glenrothes, Scotland (3.1%); Spanish Fork, Utah (3%); Midland, Ontario, Canada (2.4%); Vergennes, Vermont (1.7%); Camden, Arkansas (1.5% ); Anniston, Alabama (1.2%); and various locations within the continental U.S. (3.8%), and is expected to be completed in December 2023.
Fiscal 2021 weapons procurement (Navy) funds in the amount of $28,764,014 will be obligated at time of award, none of which will expire at the end of the current fiscal year. The Naval Air Systems Command, Patuxent River, Maryland, is the contracting activity.
A vertical launching system (VLS) is an advanced system for holding and firing missiles on mobile naval platforms, such as surface ships and submarines. Each vertical launch system consists of a number of cells, which can hold one or more missiles ready for firing. Typically, each cell can hold a number of different types of missiles, allowing the ship flexibility to load the best set for any given mission. Further, when new missiles are developed, they are typically fitted to the existing vertical launch systems of that nation, allowing existing ships to use new types of missiles without expensive rework. When the command is given, the missile flies straight up long enough to clear the cell and the ship, and then turns on course.
---