---
According to information published by the Australian Government on May 17, 2021, the Royal Australian Navy ship HMAS Ballarat has joined the international effort to enforce United Nations Security Council sanctions on North Korea.
Follow Navy Recognition on Google News at this link
---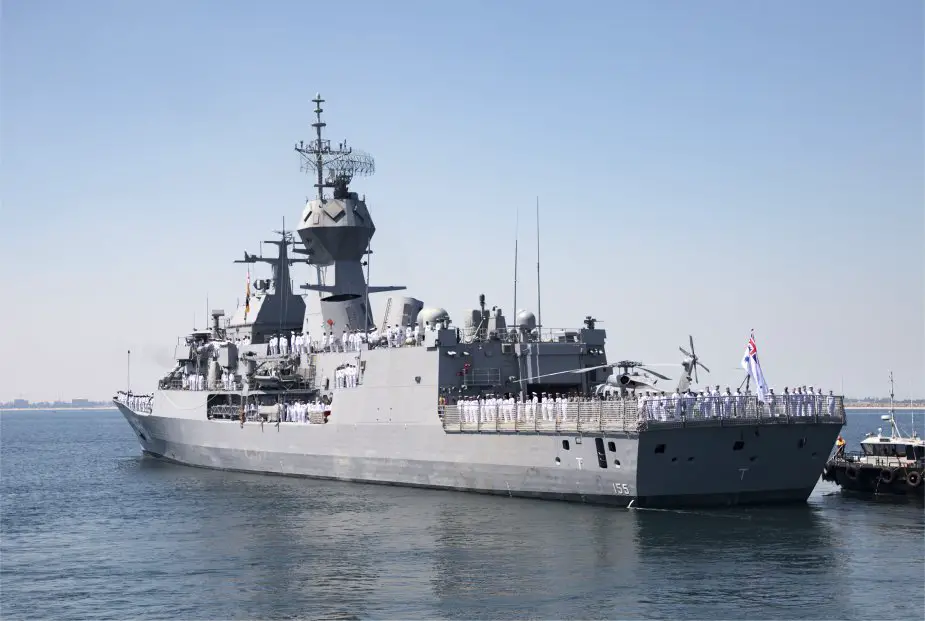 HMAS Ballarat departs Fleet Base West in 2018 (Picture source: Royal Australian Navy)
---
Ballarat's support to sanctions enforcement marks the second Australian Defence Force contribution to Operation ARGOS this year. Chief of Joint Operations, Lieutenant General Greg Bilton said Operation ARGOS demonstrated Australia's commitment to nuclear non-proliferation and global rules-based order.
This is the fifth deployment of a Navy vessel to Operation ARGOS since the operation commenced in 2018. The Australian Defence Force has also deployed a maritime patrol aircraft on eight occasions for Operation ARGOS.
Ballarat is currently on a two-month regional presence deployment throughout Southeast and Northeast Asia.
HMAS Ballarat (FFH 155) is an Anzac-class frigate of the Royal Australian Navy (RAN). The frigate was laid down in 2000 and commissioned into the RAN in mid-2004.
The Anzacs are based on Blohm + Voss' MEKO 200 PN (or Vasco da Gama-class) frigates, modified to meet Australian and New Zealand specifications and maximise the use of locally built equipment. Each frigate has a 3,600-tonne (3,500-long-ton; 4,000-short-ton) full load displacement.
The ships are 109 metres (358 ft) long at the waterline, and 118 metres (387 ft) long overall, with a beam of 14.8 metres (49 ft), and a full load draught of 4.35 metres (14.3 ft).
A Combined Diesel or Gas (CODOG) propulsion machinery layout is used, with a single, 30,172-horsepower (22,499 kW) General Electric LM2500-30 gas turbine and two 8,840-horsepower (6,590 kW) MTU 12V1163 TB83 diesel engines driving the ship's two controllable-pitch propellers. Maximum speed is 27 knots (50 km/h; 31 mph), and maximum range is over 6,000 nautical miles (11,000 km; 6,900 mi) at 18 knots (33 km/h; 21 mph); about 50% greater than other MEKO 200 designs.
The standard ship's company of an Anzac consists of 22 officers and 141 sailors.
The main armament for the frigate is a 5-inch 54 calibre Mark 45 gun, supplemented by an eight-cell Mark 41 vertical launch system (for RIM-7 Sea Sparrow or RIM-162 Evolved Sea Sparrow missiles), two 12.7-millimetre (0.50 in) machine guns, and two Mark 32 triple torpedo tube sets (initially firing Mark 46 torpedoes, but later upgraded to use the MU90 Impact torpedo).
They were also designed for but not with a close-in weapons system (two Mini Typhoons fitted when required from 2005 onwards), two quad-canister Harpoon anti-ship missile launchers (which were installed across the RAN vessels from 2005 onwards), and a second Mark 41 launcher (which has not been added).
---