---
According to a tweet published by General Dynamics Bath Iron Works on May 20, 2021, the US firm General Dynamics Corporation launched Arleigh Burke-class Flight IIA guided-missile destroyer USS Carl M. Levin (DDG 120) during the weekend. The company transferred the destroyer from the Land Level Transfer facility to the Kennebec River.
Follow Navy Recognition on Google News at this link
---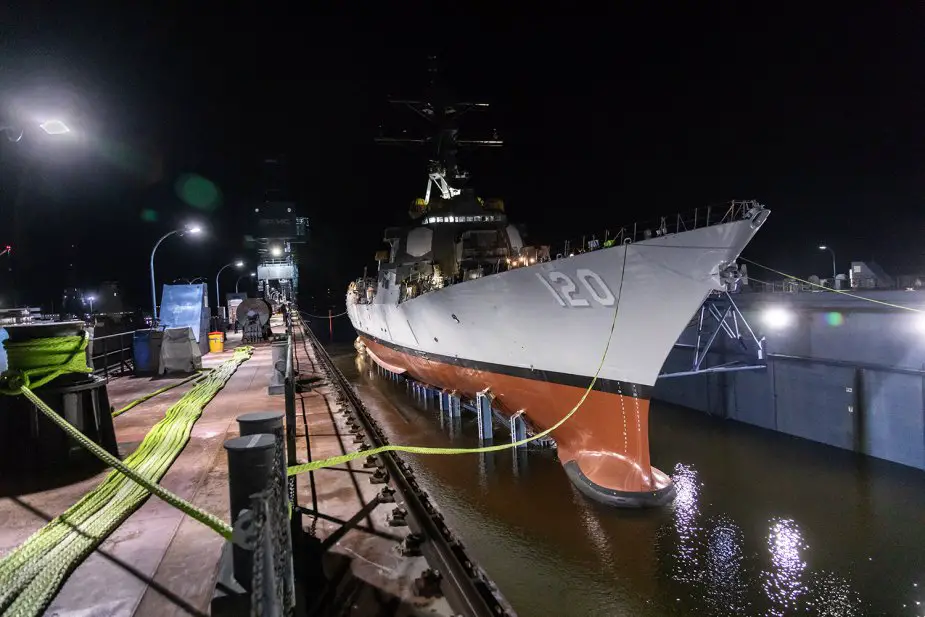 Arleigh Burke-class Flight IIA guided-missile destroyer USS Carl M. Levin DDG 120 (Picture source: General Dynamics Bath Iron Works)
---
The USS Carl M. Levin (Flight IIA: Technology Insertion) is to be a technology-insertion ship with elements of the next generation of Arleigh Burke-class destroyers, called Flight III.
Flight IIA of the Arleigh Burke-class, authorized in the fiscal year 1994, was a redesign that incorporated alterations for littoral (coastal) warfare on a hull lengthened by six feet over Flight I and II ships.
The lead ship for Flight IIA was Oscar Austin, laid down in 1997 and the first destroyer commissioned in 2000. Her main recognition feature was an enclosure for side-by-side helicopter hangars aft; her flight deck was also enlarged. Systems enhancements included organic minehunting and area theater ballistic missile defense.
The Arleigh Burke-class destroyer is a multi-mission combatant that offers defense against a wide range of threats, including ballistic missiles. It operates in support of carrier battle groups, surface action groups, amphibious groups, and replenishment groups, providing a complete array of anti-submarine (ASW), anti-air, and anti-surface capabilities.
Designed for survivability, the ships incorporate all-steel construction and have gas turbine propulsion. The combination of the ships' AEGIS combat system, the Vertical Launching System, an advanced ASW system, two embarked SH-60 helicopters, advanced anti-aircraft missiles, and Tomahawk anti-ship and land-attack missiles make the Arleigh Burke-class one of the most powerful surface combatants ever put to sea.
---