---
According to a tweet published by the Italian Navy on May 26, 2021, the Italian frigate Antonio Marceglia successfully fired Aster 30 surface-to-air missile during Exercise At Sea-Demo / Formidable Shield.
Follow Navy Recognition on Google News at this link
---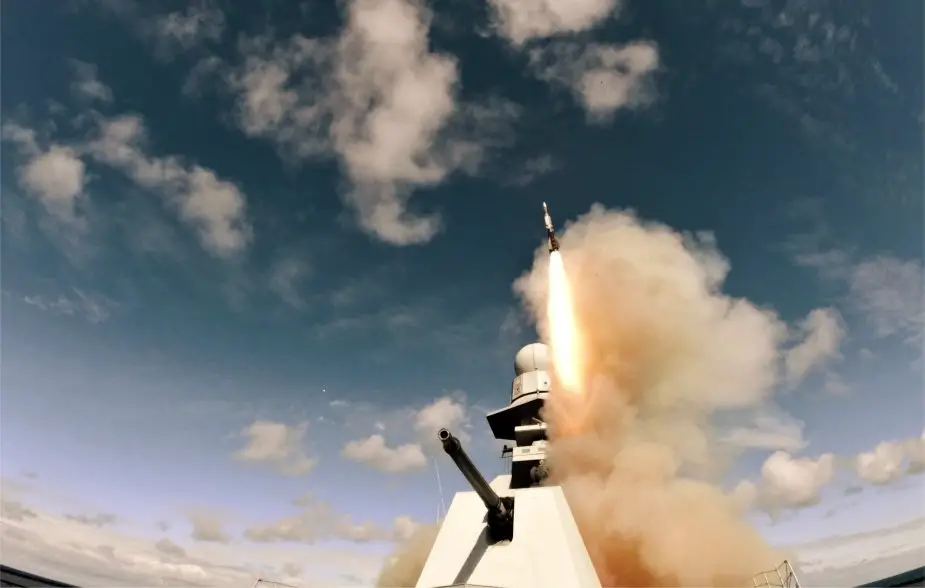 The Carlo-Bergamini class Antonio Marceglia fires Aster 30 surface-to-air missile (Picture source: Twitter account of Marina Militare)
---
"Antonio Marceglia" is the eighth unit built by Fincantieri that includes the combat system, the fourth in the multipurpose configuration after the "Carlo Bergamini", the "Luigi Rizzo" and the "Federico Martinengo", delivered to the Italian Navy respectively in 2013, 2017 and 2018.
Measuring 144 meters of length and with a displacement at a full load of approximately 6,700 tons, the FREMM frigates represent technological excellence: designed to reach a maximum speed of 27 knots and to provide accommodation for 200 people (crew and staff), these vessels are able to always guarantee a high degree of flexibility and to operate in a wide range of scenarios and tactical situations.
The Antonio Marceglia frigate is armed with 16-cell MBDA SYLVER A50 VLS for 16 MBDA Aster 15 and 30 missiles, one Leonardo Otobreda 127/64 Vulcano, two Leonardo OTO Melara 76/62 mm Davide/Strales CIWS guns, two Leonardo Oto Melara/Oerlikon KBA 25/80 mm remote weapon systems, eight MBDA Teseo\Otomat Mk-2/A anti-ship and land-attack missiles, two triple Leonardo (WASS) B-515/3 launcher for MU 90 torpedoes, two SITEP MASS CS-424 acoustic guns, and four MBDA MILAS anti-ship missiles.
The FREMM program, representing the Italian and European defense state of the art, stems from the renewal need of the Italian Navy "Lupo" class (already decommissioned) and "Maestrale" class (some of them already decommissioned, the remaining close to the attainment of operational limit) frigates, both built by Fincantieri starting from the 1970s.
---