---
According to information published by the U.S. Navy on May 27, 2021, the Arleigh Burke-class guided-missile destroyer USS Thomas Hudner (DDG 116) joined the French Navy Charles de Gaulle Strike Group (CDG CSG), in the Mediterranean in support of joint operations and interoperability training, demonstrating a mutual commitment to stability and security throughout the European Region.
Follow Navy Recognition on Google News at this link
---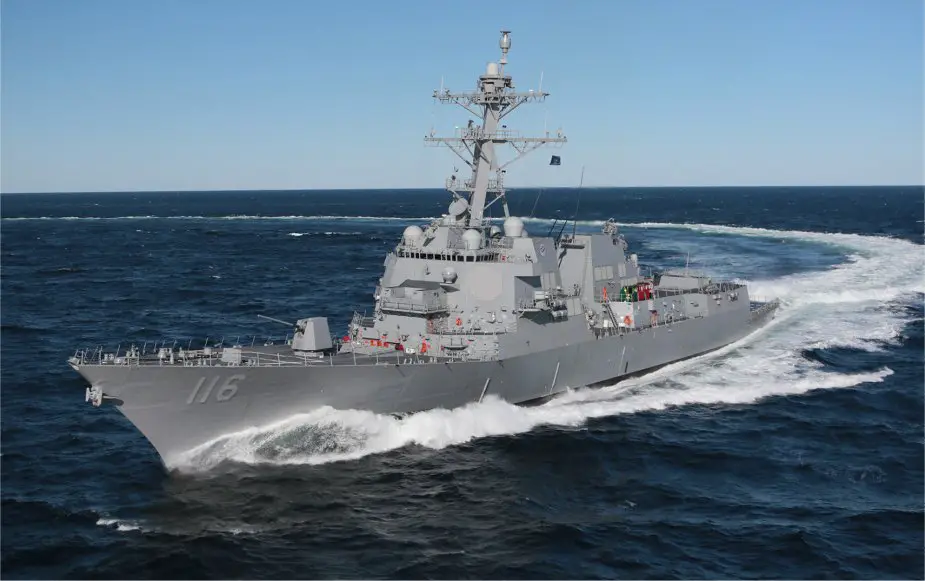 Arleigh Burke-class destroyer USS Thomas Hudner (Picture source: Maritime Business World)
---
Thomas Hudner is providing multi-warfare defense to the strike group while operating under tactical control of the French Navy.
Frequent interoperability training between the two navies has enabled each navy's ships to operate interchangeably in carrier strike groups.
"Since the beginning of the CLEMENCEAU 21 mission, a U.S. escort ship has taken part in the French carrier strike group on an almost permanent basis," said French Admiral Marc Aussedat, commander of Charles de Gaulle Carrier Strike Group (CDG CSG) TF473. "Today, it is the turn of the USS Thomas Hunder, which underscores the high level of cooperation between our two navies. After having been in command of the U.S. Task Force 50, I am honored and pleased to maintain this very high level of interoperability that the participation of the USS Thomas Hudner embodies."
Thomas Hudner is the second ship this year to operate as part of the CDG CSG in 2021. In March, USS Donald Cook (DDG 75) provided defense capabilities to the strike group in support of NATO Exercise Dynamic Manta.
The Charles de Gaulle Carrier Strike Group is made up of French ships multi-mission frigate (FREMM) Provence and Languedoc, air defense frigate (FDA) Chevalier Paul, La Fayette class frigate (FLF) La Fayette, and the french carrier air wing; command and refueling vessel (BCR) Var; maritime patrol aircraft Atlantique 2 and U.S. Navy guided-missile destroyer Thomas Hudner (DDG 116).
The USS Thomas Hudner is the 66th Arleigh Burke-class guided-missile destroyer in the United States Navy and was built by Bath Iron Works in Bath, Maine.
She is the 66th Arleigh Burke-class destroyer and the 36th of the DDG-51 class of destroyer.
The ship is able to conduct a variety of operations, from peacetime presence and crisis management to sea control and power projection. Thomas Hudner is capable of engaging in air, surface, and subsurface battles simultaneously and will contain a myriad of offensive and defensive weapons designed to support maritime warfare, including Integrated Air and Missile Defense (IAMD) capabilities.
Thomas Hudner is equipped with the AEGIS Baseline 9 Combat System which includes an Integrated Air and Missile Defense (IAMD) capability incorporating Ballistic Missile Defense 5.0 Capability Upgrade and Naval Integrated Fire Control-Counter Air. The ship's IAMD radar will provide increased computing power and radar upgrades that improve detection and reaction capabilities against modern air warfare threats.
---