---
During AUSA 2021, the Association of United States Army Defense Exhibition and Conference, the Australian firm The Whiskey Project unveils the new multi-mission reconnaissance craft (MMRC).
Follow Navy Recognition on Google News at this link
---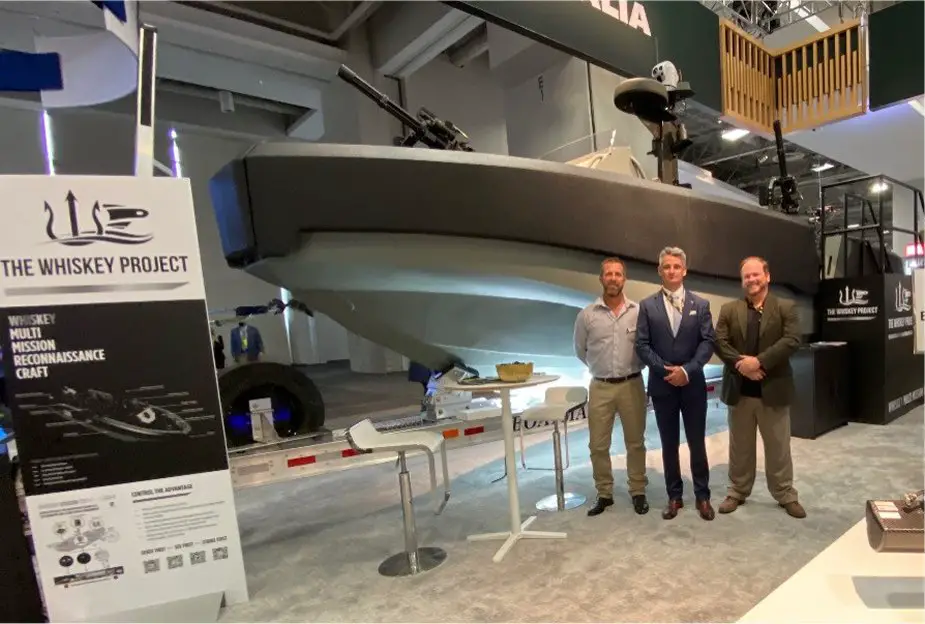 Multi-mission reconnaissance craft or MMRC (Picture source: Twitter account of The Whiskey Project)
---
Integrating fit-for-purpose features and leading technologies never before collectively applied to a combatant craft - and featuring the world's most technically advanced powerboat hull - WHISKEY MMRC is a purpose-built multi-mission combatant craft that vertically integrates with personnel and C3 systems and is specifically built to meet the operational needs of the contemporary warfare environment.
WHISKEY MMRC provides organic littoral manoeuver from the sea to support surveillance, collections, target acquisition, battlespace shaping and reconnaissance, whilst reducing its signature from adversary sensors. It extends the operational reach of commanders and facilitates multi-domain collaborative operations whilst providing a mission configurable platform compatible with Air / Rotary wing and Navy ships.
WHISKEY Multi-Mission Reconnaissance Craft introduces the WHISKEY HORIZON STRIKE™ technology suite, a game-changing low signature Sense First, See First, Strike First solution that combines advanced maritime systems, sensors, and effectors with proven US in-service tactical networks and situational awareness tools.
Developed by USMC technology integrator Aries Defense in partnership with The Whiskey Project, WHISKEY HORIZON STRIKE is fundamentally integrated into the WHISKEY MMRC design, facilitating enhanced operational awareness, command and control, and coordination of multi-domain effects to provide Commanders with decision dominance.
---