---
According to a tweet published by the Japan Maritime Self Defense Force on August 29, 2022, JS Yamagiri conducted a goodwill exercise with the Republic of Singapore Navy, RSS Intrepid off the South of Kanto.
Follow Navy Recognition on Google News at this link
---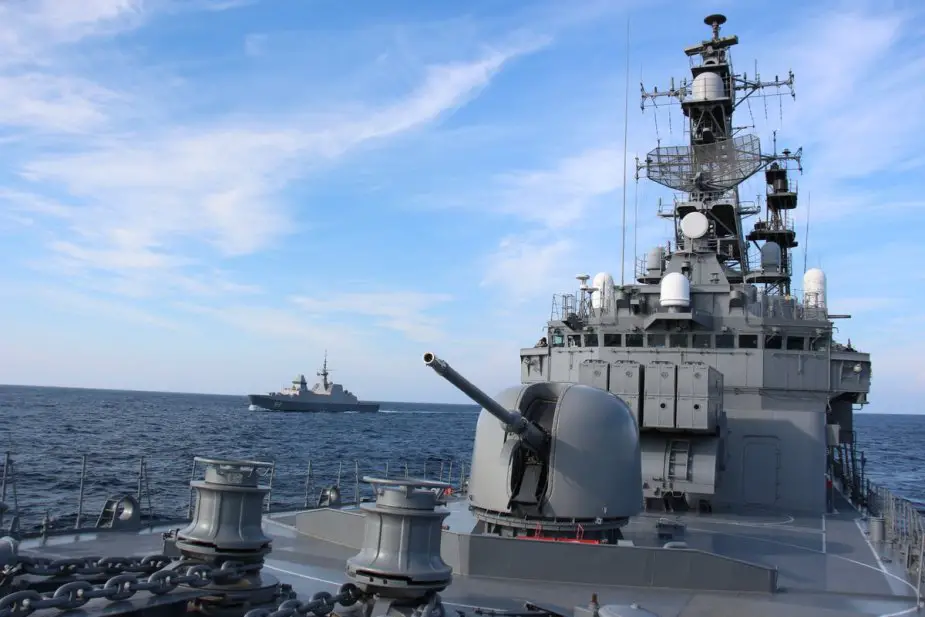 Formidable class frigate RSS Intrepid and Asagiri class destroyer JS Yamagiri (Picture source: JMSDF)
---
RSS Intrepid (69) is the second ship of the Formidable-class stealth frigate of the Republic of Singapore Navy. RSS Intrepid was built by ST Marine Engineering in Singapore around the late 2000s. Intrepid was commissioned on 5 February 2008.
The Formidable-class multi-role stealth frigates are the latest surface platforms to enter into service with the Republic of Singapore Navy, and are multi-mission derivatives of the French Navy's La Fayette-class frigate. The six ships form the First Flotilla of the RSN.
Radar cross section (RCS) reduction features have been incorporated into the Formidable class design, with inclined hull sides and bulwarks as well as concealment of ship boats and replenishment-at-sea equipment behind low-RCS curtains.
The Formidable class have a significantly reduced profile than the La Fayette class and its other derivatives, due to the smaller superstructure and the use of enclosed sensor mast technology.
The frigate is also constructed entirely of steel, unlike the La Fayette class which makes extensive use of weight-saving composite structures in its aft superstructure block. The frigates also possess better sea keeping qualities and are able to stay at sea for longer periods of time.
The frigates are equipped with the Thales Herakles passive electronically scanned array multi-function radar, which provides three-dimensional surveillance for up to 250 km (155.3 mi). The radar provides all-round automatic search and tracking of both air and surface targets, and is integrated with the MBDA Aster air defence system.
The frigates are equipped with Boeing Harpoon missiles and Oto Melara 76 mm guns for surface defence. The Harpoon missile has a range of 130 km (70 nmi) and uses active radar guidance. It is armed with a 227 kg (500 lb) warhead.
The frigates are also equipped with the EDO Corporation active low frequency towed sonar to enable long-range submarine detection and classification, as well as EuroTorp A244/S Mod 3 lightweight torpedoes fired from two B515 triple-tube launchers hidden behind the bulwark.
---