---
According to a video published by BAE Systems on August 31, 2022, the Royal Navy has officially commissioned the fifth Astute class submarine, HMS Anson.
Follow Navy Recognition on Google News at this link
---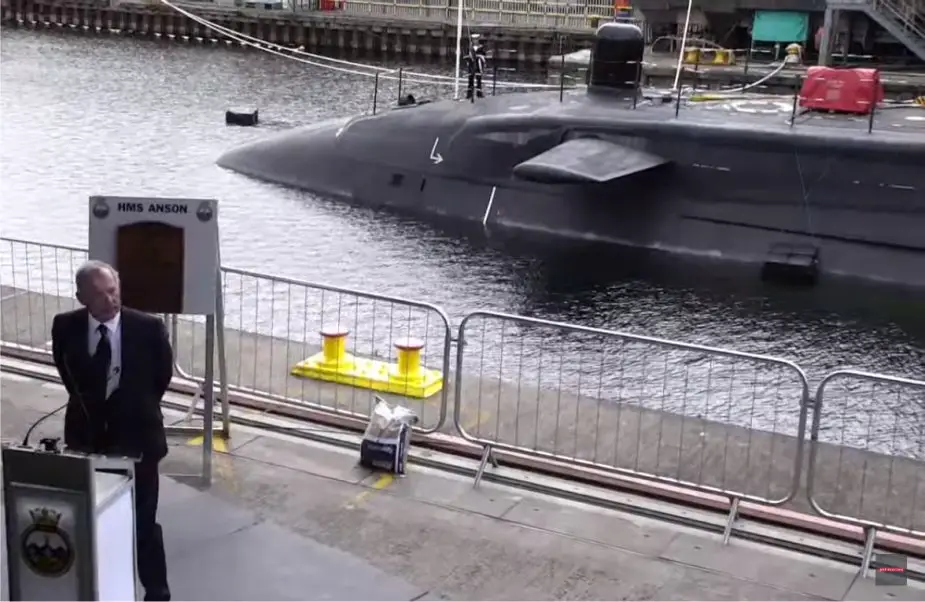 Commissioning ceremony of Royal Navy's Astute class submarine HMS Anson (Picture source: BAE Systems)
---
HMS Anson is the fifth Astute-class nuclear-powered fleet submarine of the Royal Navy. She was officially named on 11 December 2020, was rolled out of the Devonshire Dock Hall on 19 April 2021, and launched on 20 April 2021.
The Astute class submarine has a length of 97 m (318 ft 3 in), a beam of 11.3 m (37 ft 1 in), and a draught of 10 m (32 ft 10 in). They can reach a top speed of 30 knots (56 km/h; 35 mph), submerged.
Anson's nuclear reactor will not need to be refueled during the boat's 25-year service. Since the submarine can purify water and air, she will be able to circumnavigate the planet without resurfacing. The main limit is that the submarine will only be able to carry three months' supply of food for 98 officers and ratings.
Anson will have provision for up to 38 weapons in six 21-inch (533 mm) torpedo tubes. The submarine will be capable of using Tomahawk Block IV land-attack missiles with a range of 1,000 miles (1,600 kilometers) and Spearfish heavyweight torpedoes.
The Spearfish torpedo (formally Naval Staff Target 7525) is the heavy torpedo used by the submarines of the Royal Navy. It can be guided by wire or by autonomous active or passive sonar and provides both anti-submarine warfare (ASW) and anti-surface warfare (ASuW) capability.
The torpedo is driven by a pump-jet coupled to a Hamilton Sundstrand 21TP04 gas turbine engine using Otto fuel II and hydroxyl ammonium perchlorate as oxidizer.
The addition of an oxidizer improves the specific energy of the fuel by reducing the fuel-richness of the Otto fuel. The Spearfish, which are capable of traveling at 80 knots (150 km/h; 92 mph), were designed to catch high-speed, deep-diving Soviet threats such as the Alfa-class submarine.
---