---
According to information published by Global Times on December 20, 2022, after sailing across the Miyako Strait, the aircraft carrier Liaoning of the Chinese People's Liberation Army (PLA) Navy has reportedly started to host fighter jet exercises in the Philippine Sea.
Follow Navy Recognition on Google News at this link
---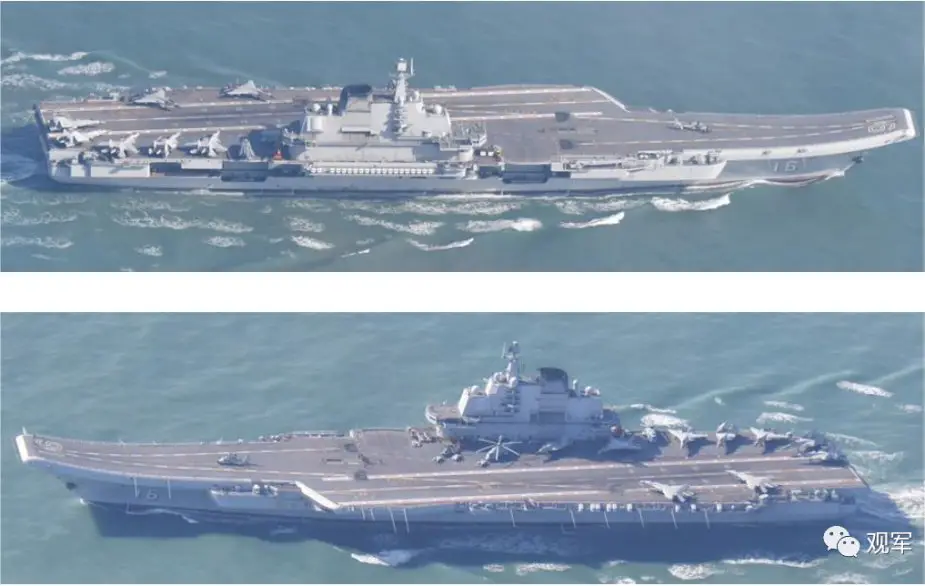 Chinese Navy's Type 001 aircraft carrier Liaoning. (Picture source: Weibo)
---
Japan's Maritime Self-Defense Force spotted the PLA Navy's aircraft carrier Liaoning, together with the Type 054A frigate Zaozhuang, the Type 052D destroyer Chengdu, the Type 055 large destroyer Wuxi and the Type 901 comprehensive replenishment ship Hulunhu, operating in the West Pacific waters to the south of Japan, after the Chinese aircraft carrier group made a transit in the Miyako Strait.
During the process, it was confirmed that carrier-based fighter jets and helicopters took off and landed on the aircraft carrier Liaoning, according to the press release.
The Liaoning aircraft carrier group held similar exercises in the same region in May this year, conducting over 300 aircraft sorties in some 20 days.
This region, in the Philippine Sea to the south of Japan and to the east of the island of Taiwan, is strategically important, a Beijing-based military expert who requested anonymity told the Global Times on Monday.
From here, PLA aircraft carrier groups can deny potential military interference by external forces in the Taiwan question, and surround the island of Taiwan from its east side.
The participating vessels in the carrier group this time are regarded as unprecedented, with a record number of Type 055 large destroyers, so the drills should involve new training courses that integrate those new elements into the group.
About the Liaoning
Liaoning is a Chinese Type 001 aircraft carrier. The first aircraft carrier commissioned into the People's Liberation Army Navy Surface Force, she was originally classified as a training ship, intended to allow the Navy to experiment, train and gain familiarity with aircraft carrier operations. Following upgrades and additional training in late 2018, Chinese state media announced that the ship would shift to a combat role in 2019.
Originally laid down in 1985 for the Soviet Navy as the Kuznetsov-class aircraft carrier Riga, she was launched on 4 December 1988 and renamed Varyag in 1990.
After the dissolution of the Soviet Union in 1991, construction was halted and the ship was put up for sale by Ukraine. The stripped hulk was purchased in 1998 and towed to the Dalian naval shipyard in northeast China.
Type 001 is built upon the unfinished hull of the Kuznetsov-class aircraft carrier Varyag. Unlike Soviet Kuznetsov, the Chinese Type 001 ships are configured solely as aircraft carriers.
The cruise missile launchers were never installed, and the launcher base was removed during the refit to incorporate a larger hangar bay. The air-defense system consists of FL-3000N surface-to-air-missiles and the Type 1130 CIWS.
---