---
According to information published by the Daily Sabah on January 14, 2022, Turkey to domestically produce a Vertical Launch System (VLS) for its naval platforms replacing the Mark 41 VLS, President Recep Tayyip Erdoğan said. It will equip the future Istanbul-class frigate for the Turkish Naval Forces.
Follow Navy Recognition on Google News at this link
---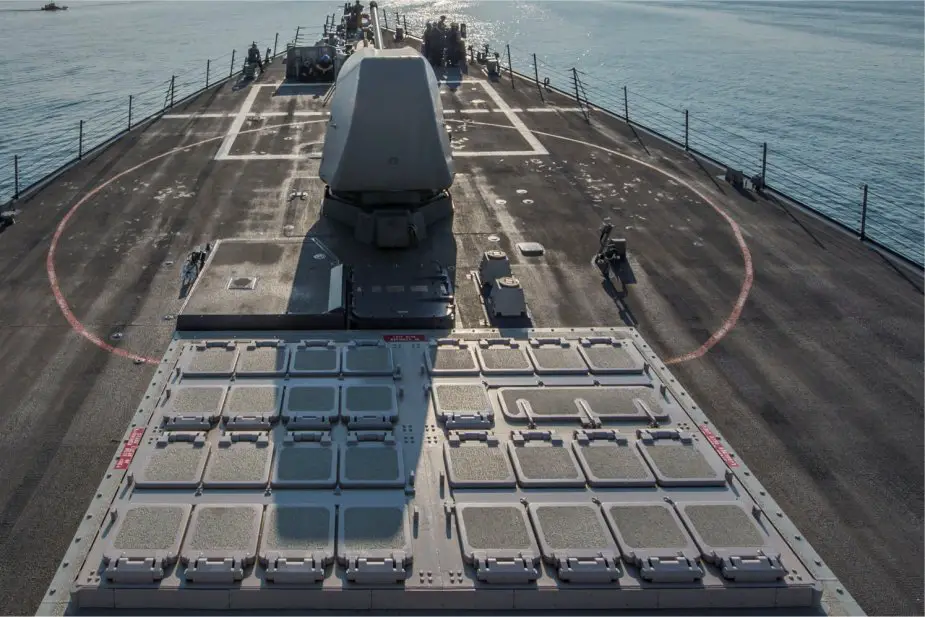 Mark 41 VLS aboard Arleigh Burke-class destroyer USS Laboon (Picture source: Sea Forces)
---
The Mark 41 Vertical Launching System (Mk 41 VLS) is a shipborne missile canister launching system that provides a rapid-fire launch capability against hostile threats. The Vertical Launch System (VLS) concept was derived from work on the Aegis Combat System.
 The Mk 41 is capable of firing the following missiles: RIM-66 Standard, RIM-67 Standard, RIM-161 Standard Missile 3, RIM-174 Standard ERAM, RGM-109 Tomahawk, RUM-139 VL-ASROC anti-submarine missile, RIM-7 Sea Sparrow anti-air missile, RIM-162 ESSM and Joint Strike Missile.
The missiles are pre-loaded into "canisters", which are then loaded into the individual "cells" of the launcher. The ESSM is loaded in a quad-pack with 4 missiles in one Mk 25 canister, older types of 8 cell modules are not able to use ESSM.
Launcher cells are fitted to ships in 8 cell modules (2 rows of 4) that share a common uptake hatch (exhaust system) sited between the two rows. 
The height (determining missile length) of the launcher comes in three sizes: 209 inches (5.3 m) for the self-defense version, 266 in (6.8 m) for the tactical version, and 303 inches (7.7 m) for the strike version.
The empty weight for an 8-cell module is 26,800 pounds (12.2 t) for the self-defense version, 29,800 pounds (13.5 t) for the tactical version, and 32,000 pounds (15 t) for the strike version.
---