---
According to a tweet published by General Dynamics NASSCO on January 27, 2022, the amphibious assault ship USS Bataan's (LHD 5) Planned Maintenance Availability has been completed ahead of schedule at General Dynamics NASSCO-Norfolk.
Follow Navy Recognition on Google News at this link
---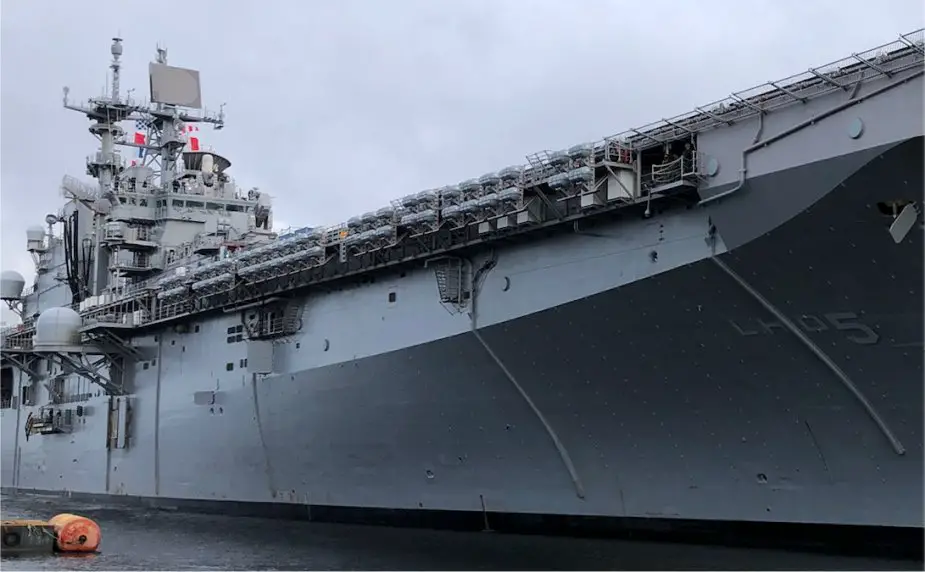 Wasp-class amphibious assault ship USS Bataan (Picture source: General Dynamics)
---
USS Bataan (LHD-5) is a Wasp-class amphibious assault ship in the United States Navy. She was commissioned on 20 September 1997.
The Wasp-class is based on the preceding Tarawa-class design. The design was modified to allow for the operation of AV-8B Harrier II aircraft and Landing Craft Air Cushion (LCAC) hovercraft, making the Wasp-class the first ships specifically designed to operate these.
Each Wasp-class ship has a displacement of 40,500 long tons (41,150 t) at full load, is 831 feet (253.2 m) long, has a beam of 104 feet (31.8 m), and a draft of 27 feet (8.1 m).
For propulsion, most of the ships are fitted with two steam boilers connected to geared turbines, which deliver 70,000 shaft horsepower (52,000 kW) to the two propeller shafts. This allows the LHDs to reach speeds of 22 knots (41 km/h; 25 mph), with a range of 9,500 nautical miles (17,600 km; 10,900 mi) at 18 knots (33 km/h; 21 mph).
---