---
According to a PR published by ThyssenKrupp Marine Systems on January 28, 2022, ThyssenKrupp Marine Systems handed over the frigate RHEINLAND-PFALZ to the Federal Office of Bundeswehr Equipment, Information Technology and In-Service Support (BAAINBw) in Hamburg.
Follow Navy Recognition on Google News at this link
---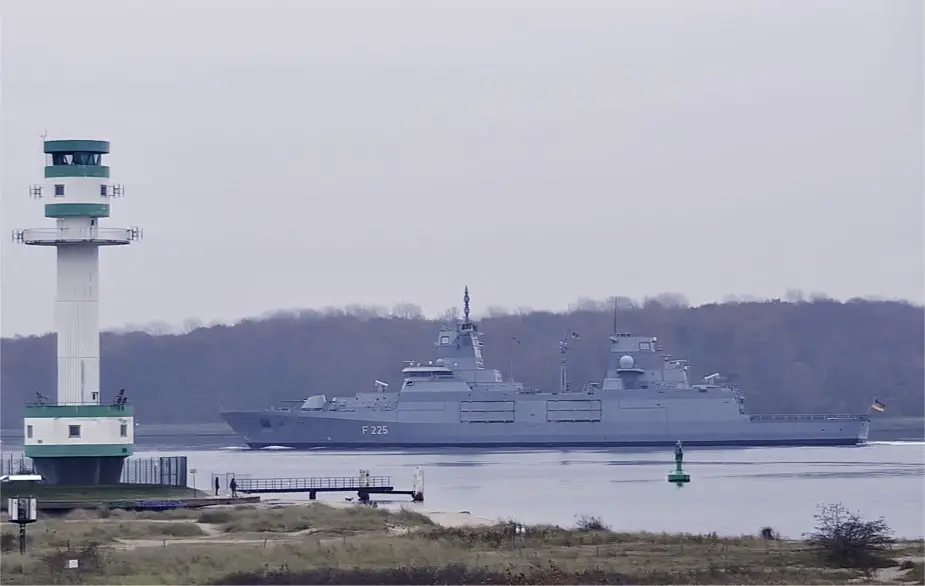 Baden Württemberg-class frigate Rheinland Pfalz (Picture source: WarshipCam)
---
With that, all four ships of the F125 class, which ThyssenKrupp Marine Systems built together with the NVL Group in the ARGE F125 consortium, have been successfully delivered.
The first ship of the F125 class is scheduled to enter service in mid-2023. In order to create the necessary conditions for this phase, a comprehensive support contract regarding the technical logistic support (TLS) for the F125 frigates was concluded between ARGE F125 and the BAAINBw at the end of last year.
The completely redesigned vessels of the F125 class have highly complex systems and around 28,000 sensors that enable a very high degree of automation, making it possible to reduce the required number of crew members by about half compared to previous frigate classes. Moreover, the ships can remain in their theatre of operations for up to two years.
Besides the traditional tasks of national and alliance defence, they are designed for conflict prevention and crisis management as well as for intervention and stabilization operations in an international context. In addition to the ability to engage targets both on land and on water, they are equipped with air defence systems and helicopters.
The contract for the construction of the four frigates became effective in June 2007. The concept, design and detailed design phases followed. Around 90 per cent of the highly complex systems onboard the F125 were developed specifically for this new type of ship.
ARGE F125 comprises ThyssenKrupp Marine Systems as the lead company and the Bremen-based NVL Group (formerly Lürssen Defence). The pre-fitted bow sections were produced at the shipyards of the NVL Group in Bremen and in Wolgast on the Baltic Sea. Construction of the stern sections, the joining of the two vessel halves, further fitting-out, commissioning and trials all took place at the NVL shipyard Blohm+Voss in Hamburg.
Their crew is comprised on average of 150 sailors, although that can change depending on the mission. The vessels' main weapons are the Oto Melara 127/64 LW gun, 2 x remote-controlled 27 mm Rheinmetall MLG27 cannons, 5 x HITROLE naval turrets with 12.7 mm heavy machine guns, 8 x Boeing RGM-84 Harpoon missiles, 2 x Raytheon RIM-116 RAM CIWS systems and a series of non-lethal weapons.
---