---
According to information published by Tass on November 30, 2022, the minesweeper Petr Ilyichev is another warship of project 12700 to join the Navy in mid-November. She operates in the Pacific fleet.
Follow Navy Recognition on Google News at this link
---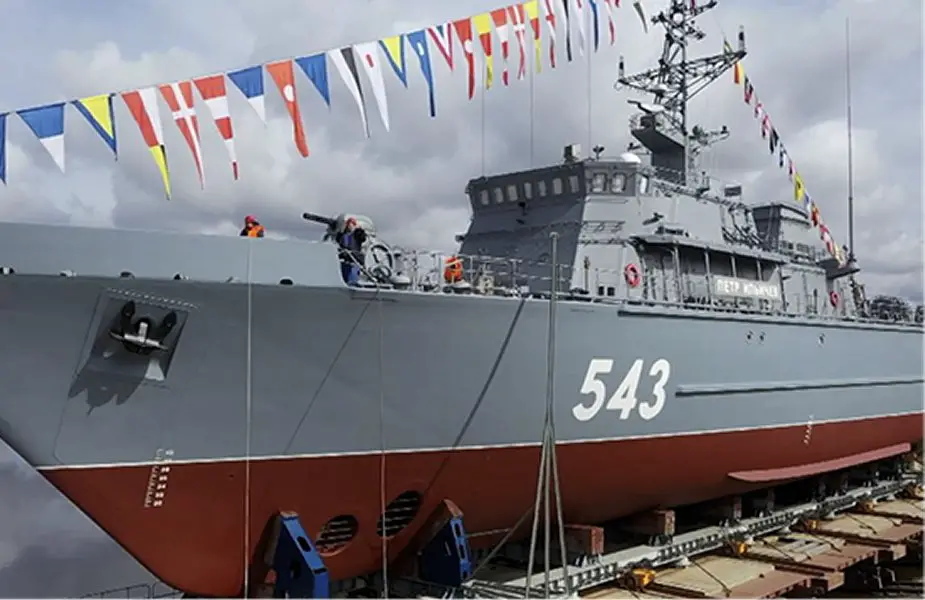 Russian Project 12700 minesweeper Petr Ilyichev. (Picture source: Russian MoD)
---
New-generation Alexandrite-class minesweepers of project 12700 search for, sweep and destroy sea mines in coastal and brown waters. Almaz Design Bureau in St. Petersburg designed the project in 1990s.
The new minesweepers were necessary, as those available at the time (projects 266M and 12650) were built in 1970-1980s and could not effectively fight modern mines.
Project 12700 has automatic controls, contact and magnetic sweeps, modern sonars on the warship and on remotely guided and autonomous craft. The minesweepers have a monolith fiberglass hull. They are built by Sredne-Nevsky Shipyard in St. Petersburg.
The Defense Ministry and the shipyard signed a contract for the R&D of the lead minesweeper on March 30, 2007 and amended it on June 10, 2014. The amount of the contract was not disclosed, but the insured value was 5.5 billion rubles.
The contract for the construction of three minesweepers was signed on April 17, 2014. In 2016, the Sredne-Nevsky Shipyard received an order for another three minesweepers.
Deputy head of the shipbuilding department of the Navy Captain First Rank Mikhail Krasopeev said on December 26, 2017 the Navy wants to get ten minesweepers of project 12700 by 2027.
However, a Navy official said in May 2019 that the fleet plans to have close to 40 warships of project 12700 in the midterm. A contract for another minesweeper was signed at Army-2021 forum.
Characteristics
The Sredne-Nesvsky Shipyard provided the following characteristics for the export modification of project 12700: full displacement 890 tons, length 61.6 meters, width 10.3 meters, draft 3.1 meters, full speed 16 knots, cruising range 1500 nautical miles, crew 44 people.
Two main diesel engines M-503M-1 of 2500 HP each are produced by Zvezda enterprise in St. Petersburg. The media said three sets of anti-mine system worth 10 million euros, comprising unmanned Inspector Mk 2 boat with remotely controlled Seascan underwater guided craft, were procured from the French ECA Group. They were delivered in 2016-2017.
The Russian Navy refused to localize the production of such boats and underwater craft. However, Almaz Design Bureau has developed such a craft from BL-680 inflatable boat. Sredne-Nevsky Shipyard Director Vladimir Seredokho said a Russian producer would supply the unmanned boats for project 12700.
Arms, equipment
The weapons of project 12700 include 30 mm AK-306 artillery gun with 1500 rounds of munition, pedestal-mounted 14.5 mm machinegun or two 12.7 machineguns, Igla manpad, Alexandrite-ISPUM-E mine detection and destruction system produced by the Region enterprise in Moscow.
---