---
According to information published by the German MoD on October 27, 2022, on board the frigate Sachsen, the Federal Office of Bundeswehr Equipment, Information Technology and In-Service Support (BAAINBw) is currently testing the use of a high-energy laser weapon against enemy drones and attacking missiles.
Follow Navy Recognition on Google News at this link
---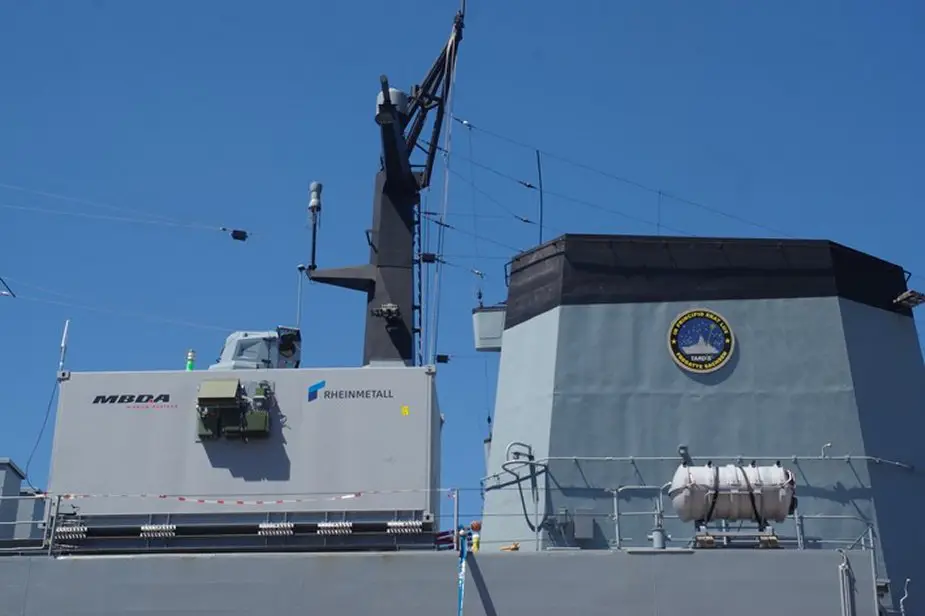 The laser weapon demonstrator is integrated into a 20-foot container installed on the deck of the frigate Sachsen. (Picture source: Bundeswehr)
---
A live shot was fired for the first time in this context at sea off the Putlos military training area, and the test results show that the laser weapon has the potential to meaningfully expand the capabilities of the Bundeswehr.
After nearly ten years of intensive research into laser effectors, the results of these efforts have been bundled into a demonstrator that integrates the entire functionality in a 20-foot container - from reconnaissance to data processing to combat with a high-energy laser.
The laser weapon demonstrator was already scaffolded on the frigate "Sachsen" at the end of June 2022 in order to test it under realistic operational conditions in the maritime environment.
To this end, the BAAINBw developed a comprehensive test program with demanding test scenarios on land, at sea, and in the air, in which the laser weapon demonstrator is to prove its suitability during a trial period of almost one year.
During a test campaign in October 2022, proof has now been provided that dynamic targets can be successfully engaged under near-operational conditions.
About the frigate Sachsen
Sachsen is a Sachsen-class frigate of the German Navy. Built by Blohm+Voss, Hamburg, Sachsen was the first of the Sachsen class to be launched and then commissioned into the German Navy.
The ships of the Sachsen class are 132.15 meters (433 ft 7 in) long at the waterline and 143 m (469 ft 2 in) long overall. They have a beam of 17.44 m (57 ft 3 in) and a draft of 5 m (16 ft 5 in), though the draft increases to 7 m (23 ft 0 in) at the sonar array in the bulbous bow.
They displace 5,690 long tons (5,780 t) at full load. Steering is controlled by a single roll-stabilized rudder; the ships have a turning radius of 570 m (1,870 ft).
The frigates have a crew of 38 officers, 64 petty officers, and 140 enlisted sailors. They have accommodations for an additional thirteen officers and sailors as part of a squadron commander's staff, and they have crew provisions for female sailors. The ships can remain at sea for 21 days at a time.
For defense against submarines, the frigates carry two triple-launchers for the 324 mm (12.8 in) MU90 Impact torpedoes. The ships also carry a variety of guns, including one dual-purpose 62-caliber 76-millimeter (3 in) gun manufactured by OTO Melara. They are also armed with two Rheinmetall 27 mm (1.1 in) MLG 27 remote-controlled autocannons in single mounts.
---