---
According to information published by Global Times on October 27, 2022, the Type 054A frigate Ziyang of the Chinese People's Liberation Army (PLA) Navy recently made its training debut, with observers saying that the newly commissioned warship will enhance the PLA Navy's capabilities.
Follow Navy Recognition on Google News at this link
---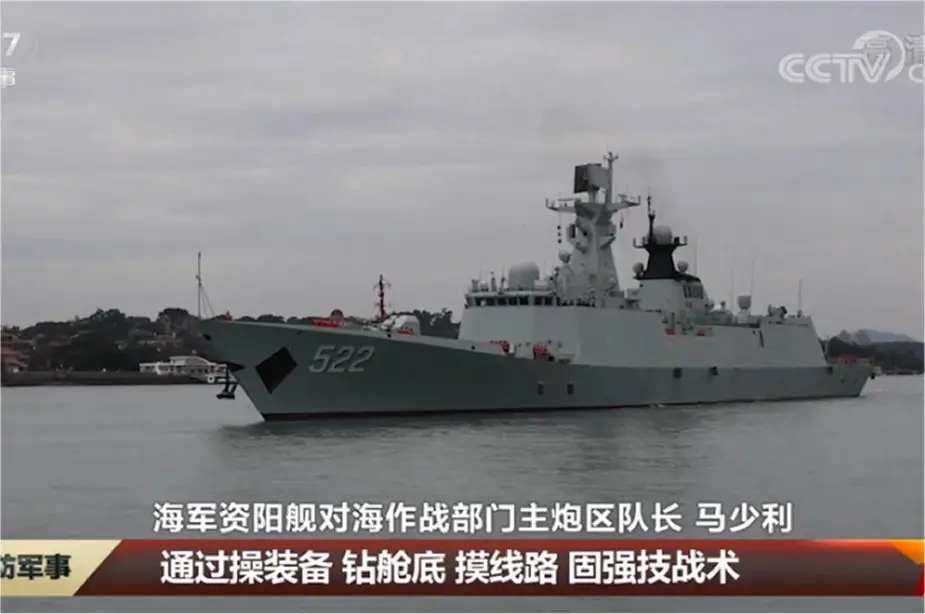 PLA Navy's Type 054A frigate Ziyang. (Picture source: CCTV)
---
The Type 054 was heavily influenced by the La Fayette-class frigate from France, and so reflected the strategic and operational requirements of that country. The development of the Type 054A may have been driven by China's need to address high-intensity armed conflict.
Type 054A uses the same stealthy hull form as Type 054. The forward launcher for HQ-7 short-range SAM is replaced with a 32-cell vertical launching system for medium-range HHQ-16 SAMs and Yu-8 antisubmarine rockets. The smaller main gun and Type 730 close-in weapon system (CIWS) are also installed.
The radar suite makes use of technology reverse-engineered from Russian systems; the affected Chinese systems may include the H/LJQ-382 air search radar (from the Fregat MAE-3) and the H/LJQ-366 fire control radar (from the Mineral ME). The HHQ-16 target illuminators may also be derived from the Russian MR-90.
Ships starting with the 17th unit were constructed with enhanced anti-submarine warfare capability - adding variable depth and towed array sonar - and the Type 1130 CIWS instead of Type 730. These ships have been unofficially referred to as Type 054A+, Type 054A2, or modified Jiangkai II.
The frigates have a length of 134 m (440 ft), a beam of 16 m (52 ft), a displacement of 3,963 tonnes, and a range of 3,800 nautical miles. They can reach a top speed of 27 knots. The flight deck of the ships can operate one Kamov Ka-28 'Helix' or one Harbin Z-9C.
In January 2013, it was confirmed that China offered three Type 054As to the Royal Thai Navy for US$1 billion. Ultimately, Thailand selected a derivative of the South Korean Gwanggaeto the Great-class destroyer from Daewoo Shipbuilding & Marine Engineering.
Pakistan ordered four Type 054A variants from Hudong-Zhonghua in 2017-2018 as the Type 054A/P, or Tughril class. The first entered service on 8 November 2021.
---