---
According to information published by the U.S. DoD on September 9, 2022, the future USNS Apalachicola (EPF 13), the Navy's 13th Spearhead-class expeditionary fast transport successfully completed Acceptance Trials and Unmanned Logistics Prototype Trials.
Follow Navy Recognition on Google News at this link
---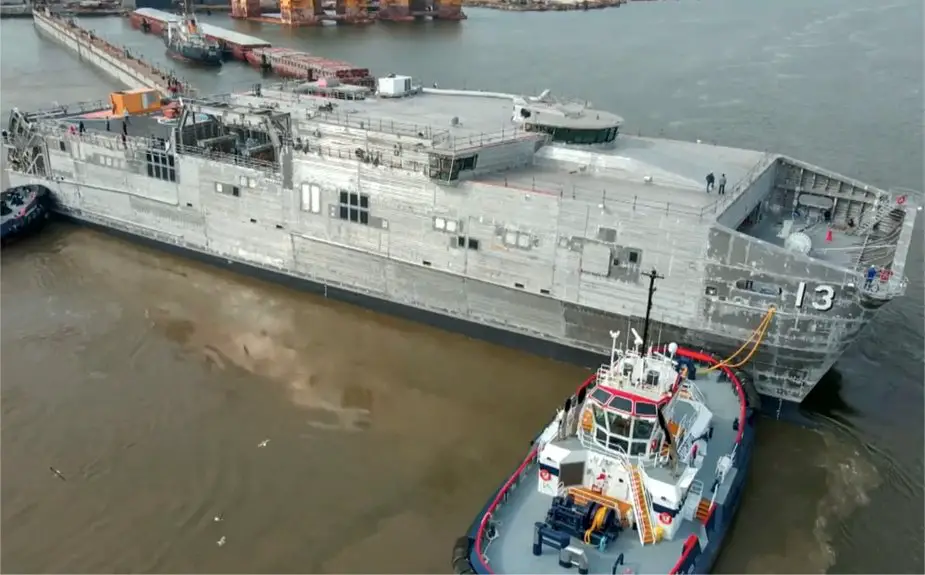 The 13th Spearhead-class Expeditionary Fast Transport USNS Apalachicola (Picture source: Austal)
---
Acceptance Trials consists of a series of in-port and at-sea demonstrations that allow the Navy and the shipbuilder, Austal USA, to assess the ship's systems and readiness prior to delivery to the Navy.
EPF 13 also completed Unmanned Logistics Prototype trials assessing autonomous capabilities integrated into the shipboard configuration, demonstrating that a large ship can become a self-driving platform.
In transit from Mobile, Alabama, to Miami, Florida, Apalachicola's autonomous system completed a stress test in high-traffic coastal areas by taking appropriate ship handling actions while operating around other ships, boats, sailboats, and craft. Overall, the ship was in autonomous mode for approximately 85 percent of the multiple-day at-sea period.
The unprecedented development of autonomous capability on Apalachicola is the culmination of collaborative efforts with the Navy's shipbuilding and industry partners, Austal USA, L3 Harris and General Dynamics.
EPFs are shallow draft, commercial-based, catamaran designed for rapid, intra-theater transport of personnel and equipment. The EPF's high speed, shallow draft, and ability to load/unload in austere ports enables maneuver force agility in achieving positional advantage over intermediate distances without reliance on shore-based infrastructure.
The 13th Spearhead-class expeditionary fast transport (EPF) USNS Apalachicola is scheduled to be delivered to the U.S. Navy later this year.
The EPF has a flight deck for helicopters and a load ramp that will allow vehicles to quickly drive on and off the ship. The ramp is suitable for the types of austere piers and quay walls common in developing countries. EPF has a shallow draft (under 15 feet (4.6 m)).
The EPF is an aluminum twin-hull catamaran shell containing four diesel engines, rudimentary facilities for up to 40 crew members, and 312 airline-style passenger seats, with an expansive flight deck on the top.
The rest of the vessel is a convertible 20,000 sq ft (1,900 m2) mission bay that can be loaded to carry any cargo. Vehicles and cargo are loaded and unloaded by a ramp that can support up to 100 tons of weight.
Although designed for a military crew of 46, the ships usually have a crew of 26. The passenger room contains reclining seats with overhead televisions and racks for weapons and equipment.
Each vessel has 104 permanent berthing spaces. Without resupply, it can support 312 embarked personnel for four days, or 104 personnel for 14 days.
---