---
According to information published by the Australian DoD on September 14, 2022, in the seas off the tropical island of Guam, five nations have again combined to test their maritime warfare skills during Exercise Pacific Vanguard 2022, with the Royal Australian Navy (RAN) achieving successful missile firings.
Follow Navy Recognition on Google News at this link
---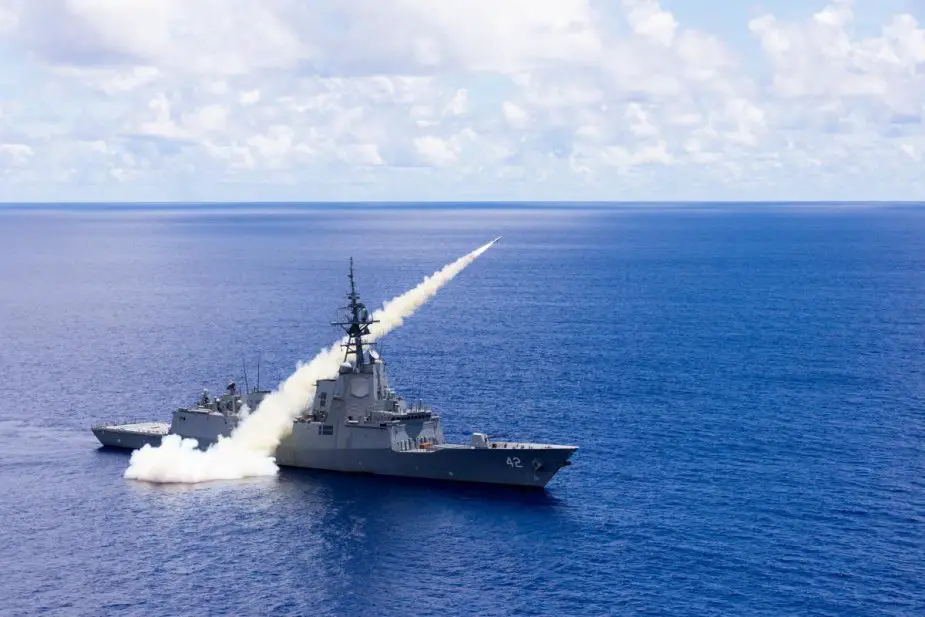 Hobart-class guided missile destroyer HMAS Sydney strikes a land target with a Harpoon surface-to-surface missile during Exercise Pacific Vanguard 2022. (Picture source: Australian DoD)
---
The guided-missile destroyer HMAS Sydney and the Anzac-class frigate HMAS Perth joined ships and aircraft from the Royal Canadian Navy, Japan Maritime Self-Defense Force, Republic of Korea Navy, and the United States Navy for the biennial integrated air and missile defence exercise.
During the exercise, Sydney successfully struck a land target with a Harpoon surface-to-surface missile. Meanwhile, Perth also successfully engaged an airborne target with an Evolved Sea Sparrow Missile.
The week-long exercise commenced with an opening ceremony on board the JMSDF Ship Izumo attended by commanding officers from all participating nations.
The ships' participation in Exercise Pacific Vanguard 2022 was part of a regional presence deployment, following hot on the heels of multilateral air and ballistic missile defence training in Exercise Pacific Dragon.
Other RAN ships also recently participated in Exercise Rim of the Pacific 2022 – the world's largest naval exercise – as part of a regional presence deployment.
About the destroyer HMAS Sydney
 HMAS Sydney (DDG 42), named after the city of Sydney, New South Wales, is the third and final ship of the Hobart class air warfare destroyers used by the Royal Australian Navy (RAN).
HMAS Sydney was laid down on 19 November 2015, and launched on 19 May 2018. The ship, based on the Álvaro de Bazán-class frigate designed by Navantia, was built at ASC's shipyard in Osborne, South Australia from modules fabricated by ASC, BAE Systems Australia in Victoria, and Forgacs Group in New South Wales. The ship was delivered to Australian Department of Defence on 28 February 2020, after sea trials since September 2019.
Each destroyer will have a length overall of 147.2 metres (483 ft), a maximum beam of 18.6 metres (61 ft), and a draught of 5.17 metres (17.0 ft). At launch, the ships will have a full-load displacement of 6,250 tonnes (6,150 long tons; 6,890 short tons).
The Hobarts have been designed to allow for upgrades and installation of new equipment, with a theoretical maximum displacement of 7,000 tonnes (6,900 long tons; 7,700 short tons).
The Hobarts use a more powerful propulsion system than their Spanish predecessors. The combined diesel or gas turbine (CODOG) propulsion arrangement consists of two General Electric Marine model 7LM2500-SA-MLG38 gas turbines, each generating 17,500 kilowatts (23,500 hp), and two Caterpillar Bravo 16 V Bravo diesel engines, each providing 5,650 kilowatts (7,580 hp).
These drive two propeller shafts, fitted with Wärtsilä controllable pitch propellers. The ships' maximum speed is over 28 knots (52 km/h; 32 mph), with a range of over 5,000 nautical miles (9,300 km; 5,800 mi) at 18 knots (33 km/h; 21 mph).
The standard ship's company is 186-strong, plus 16 additional personnel to operate and maintain the ship's helicopter. Additional accommodation increases the maximum potential complement to 31 officers and 203 sailors. Onboard electricity requirements (the hotel load) are supplied by four MTU prime mover diesel motors connected to Alconza alternators.
---