---
According to a tweet published by Ryan Chan on September 22, 2022, the US Navy Independence-class littoral combat ship USS Jackson (LCS-6) arrived in Papeete, Tahiti.
Follow Navy Recognition on Google News at this link
---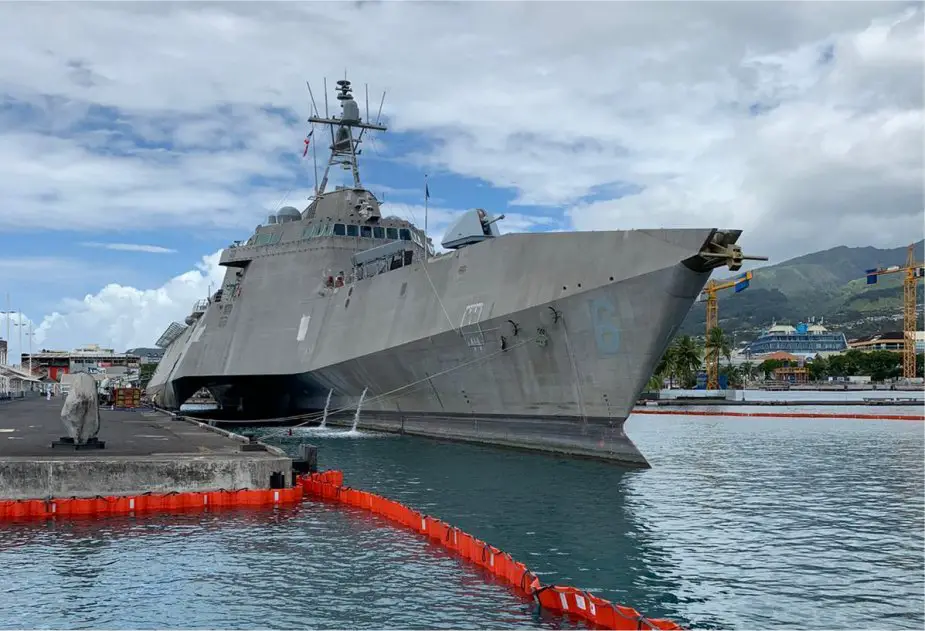 Independence-class Littoral Combat Ship USS Jackson (Picture source: DVIDS)
---
USS Jackson is deployed to the Oceania region with an embarked US Coast Guard Pacific Tactical Law Enforcement Detachment conducting maritime law enforcement operations.
French Polynesia is an overseas collectivity of France and its sole overseas country. It comprises 121 geographically dispersed islands and atolls[5] stretching over more than 2,000 kilometers (1,200 mi) in the South Pacific Ocean.
About the Littoral Combat Ship
USS Jackson (LCS-6) is an Independence-class littoral combat ship of the United States Navy, and the first ship to be named for Jackson, the capital of Mississippi.
The littoral combat ship (LCS) is either of two classes of relatively small surface vessels designed for operations near shore by the United States Navy. It was "envisioned to be a networked, agile, stealthy surface combatant capable of defeating anti-access and asymmetric threats in the littorals." Littoral combat ships are comparable to corvettes found in other navies.
The Freedom class and the Independence-class are the first two LCS variants. Each is slightly smaller than the U.S. Navy's Oliver Hazard Perry-class frigate but larger than Cyclone-class patrol ships.
Each has the capabilities of a small assault transport, including a flight deck and hangar for housing two SH-60 or MH-60 Seahawk helicopters, a stern ramp for operating small boats, and the cargo volume and payload to deliver a small assault force with fighting vehicles to a roll-on/roll-off port facility.
Standard armaments include Mk 110 57 mm guns and RIM-116 Rolling Airframe Missiles. They are also equipped with autonomous air, surface, and underwater vehicles.
Possessing lower air defense and surface warfare capabilities than destroyers, the LCS concept emphasizes speed, flexible mission modules, and a shallow draft.
---