---
According to information published by Militarnyi on April 27, 2023, new underwater drones called Toloka are being developed by the Ukrainian defense industry.
Follow Navy Recognition on Google News at this link
---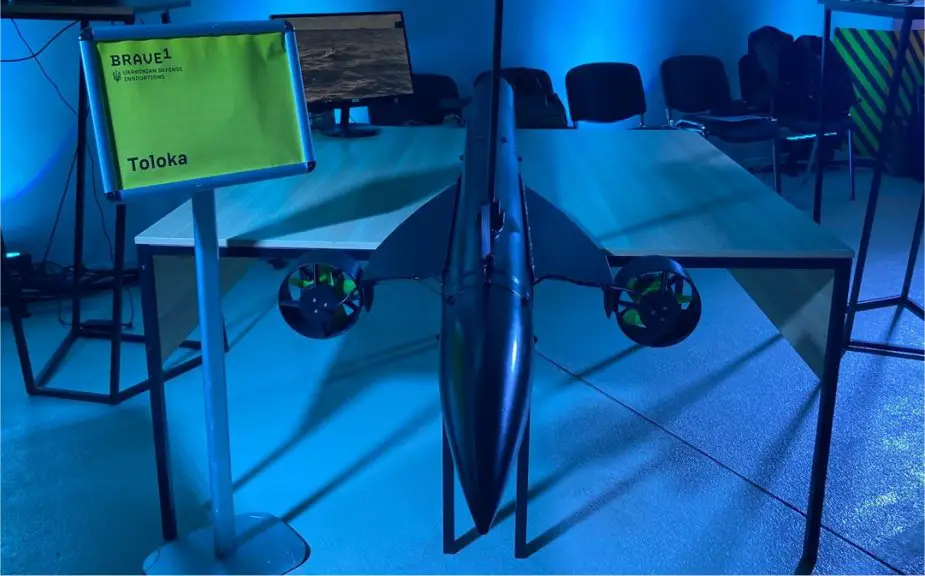 Toloka underwater drone. (Picture source: Militarnyi)
---
Various versions of torpedoes are being designed, with one prototype already showcased at the BRAVE+1 exhibition. The underwater drone is expected to have a range of 2000 kilometers and can identify jamming zones.
The device can stay in standby mode for up to 3 months, and automatic scanning of the area is conducted using 3D sonar, hydrophone, and camera to create mine maps for demining.
The guidance system uses GPS or an inertial navigation system in the absence of GPS or during signal jamming. Targets are identified through video cameras, thermal imaging cameras, and a neural network, while the guidance system includes passive hydrolocation for underwater and surface object identification and direction-finding using a hydrophone system, as well as ultrasonic sonars for direction-finding and identification at close range.
Three versions are being developed: TLK 1000 (4-12 meters), TLK 400 (4-6 meters), and TLK 150 (2.5 meters). TLK 150 is electrically powered, has a range of 100 kilometers, and can carry up to 20-50 kg of explosives.
TLK 400 will carry 500 kg of explosives and can cover a range of 1200 kilometers, while the TLK 1000 (4-12 meters) has a range of 2000 kilometers and can carry up to 5000 kg of explosives. It is worth noting that a new version of the Ukrainian military maritime drone was demonstrated by volunteers in March.
---