---
According to a tweet published by PT Pal Indonesia on January 20, 2023, the second Sudirohusodo-class Hospital ship KRI dr. Radjiman Wedyodiningrat has joined the Indonesian Navy.
Follow Navy Recognition on Google News at this link
---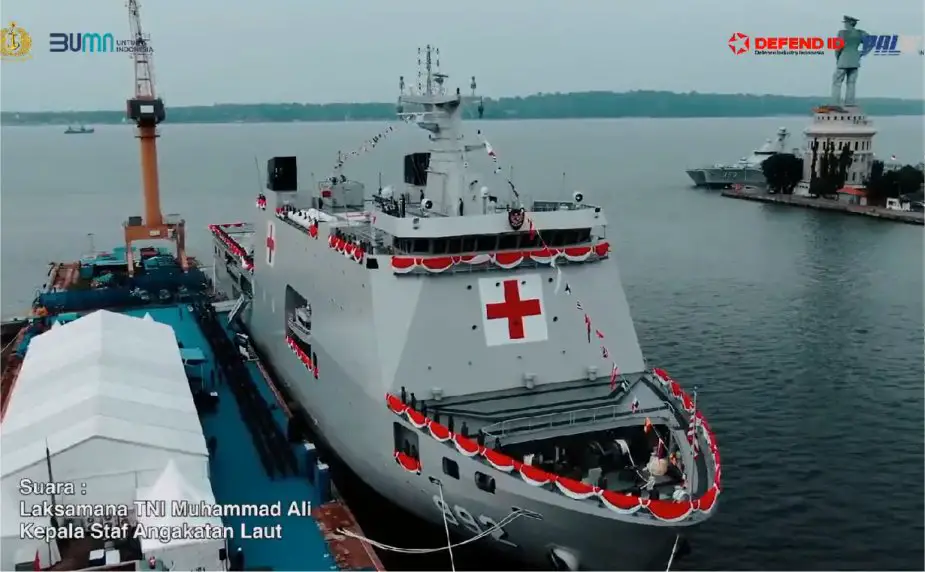 Sudirohusodo-class Hospital ship KRI dr. Radjiman Wedyodiningrat. (Picture source: Twitter account of PT Pal)
---
KRI dr. Radjiman Wedyodiningrat (992) is the second ship of Sudirohusodo-class hospital ship of the Indonesian Navy. The construction of the ship started with the first steel-cutting ceremony on 10 September 2020. Its keel was laid on 21 January 2021. KRI dr. Radjiman Wedyodiningrat was named and launched in a ceremony on 15 August 2022.
The class has a length of 124 meters and a beam of 21.8 meters. The class displacement is 7,290 tonnes. It has a capacity of 643 people, including 159 patients.
It has a maximum speed of 18 knots, a cruising speed of 14 knots, and an economical speed of 12 knots. It can sail up to 30 days and 10,000 nautical miles.
The ship is equipped with a variety of medical facilities, including a surgical unit, X-ray equipment, laboratory, and pharmacy, as well as accommodation for medical staff and patients.
The Sudirohusodo-class ship is intended for use in providing medical assistance and support in remote or disaster-stricken areas, as well as for training of navy medical personnel.
She also features a helicopter deck and can accommodate two helicopters at the same time, making it possible to transport patients and medical teams to and from remote areas.
---