---
According to information published by the US Government on March 17, 2023, the State Department has made a determination approving a possible Foreign Military Sale to the Government of Australia of Tomahawk Block V and Block IV All Up Rounds (AUR) and related equipment for an estimated cost of $895 million.
Follow Navy Recognition on Google News at this link
---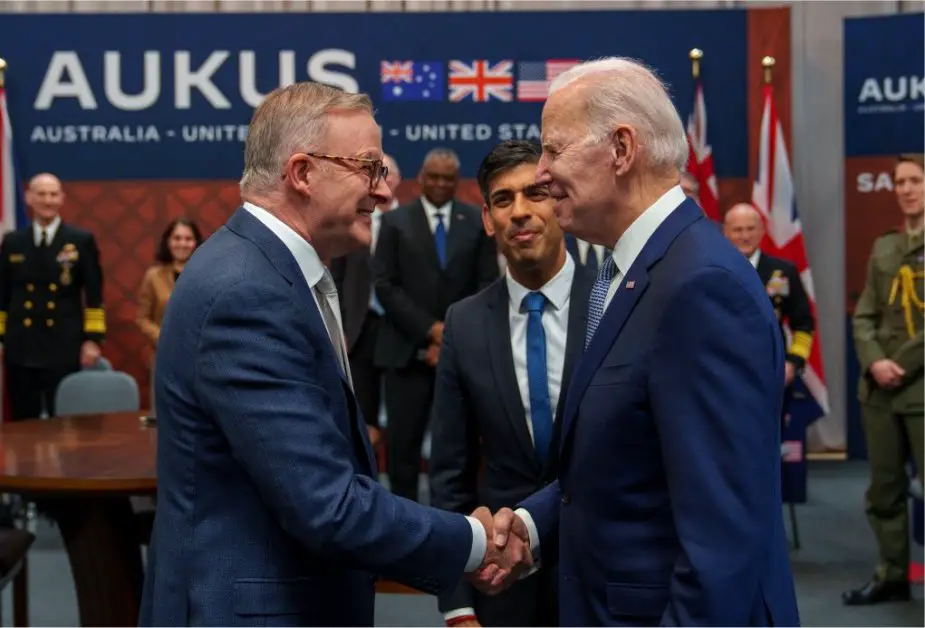 Anthony Albanese, Rishi Sunak and Joe Biden during a meeting of AUKUS. (Picture source: Twitter account of Anthony Albanese)
---
The Government of Australia has requested to buy up to two hundred (200) Tomahawk Block V All Up Rounds (AUR) (RGM-109E); and up to twenty (20) Tomahawk Block IV All Up Rounds (AUR) (RGM-109E).
Also included is support for all three segments of Australia's Tomahawk Weapon System (TWS) to include the All Up Round (AUR), the Tactical Tomahawk Weapon Control System (TTWCS) and the Theater Mission Planning Center (TMPC).
The support consists of unscheduled missile maintenance; spares; procurement; training; in-service support; software; hardware; communication equipment; operational flight test; engineering and technical expertise to maintain the TWS capability; and other related elements of logistical and program support. The estimated total cost is $895 million.
The proposed sale will improve Australia's capability to interoperate with U.S. maritime forces and other allied forces as well as its ability to contribute to missions of mutual interest.
The prime U.S. contractor will be Raytheon Missiles and Defense, Tucson, AZ. There are no known offset agreements proposed in connection with this potential sale.
Implementation of this proposed sale will require multiple trips by U.S. Government representatives and contractor personnel to visit Australia on a temporary basis over the life of the case to support delivery and integration of items and to provide supply support management, inventory control, and equipment familiarization. Visits will also include program and technical reviews.
AUKUS
The AUKUS pact was announced on September 15, 2021 and aimed at having the United States and the United Kingdom help Australia acquire nuclear submarines.
On March 13, 2023, Biden, Sunak and Albanese announced the supply of three Virginia-class submarines to the Australian Navy and the construction of a new class of submarines called AUKUS.
---