---
According to information published by the UK DoD on March 16, 2023, the Royal Navy has taken delivery of new jet-powered Banshee drones capable of flying up to 400mph.
Follow Navy Recognition on Google News at this link
---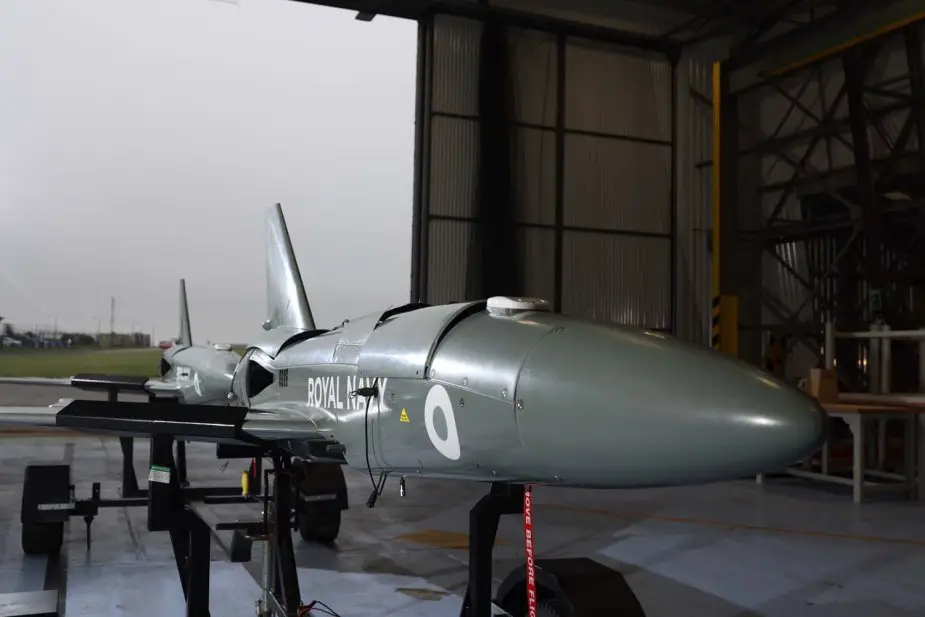 Banshee Jet 80+ drone. (Picture source: UK MoD)
---
The adoption of the powerful Banshee Jet 80+ is a significant step forward as the navy forges ahead with the use of remotely-piloted air systems (RPAS).
Developed by defence company QinetiQ, the Banshee simulates threatening aircraft to help the Royal Navy stay at the cutting-edge of air defences. They were first trialled on the aircraft carrier HMS Prince Of Wales in 2021.
Now a new flight has been formed at 700X Naval Air Squadron (NAS), based at Royal Naval Air Station Culdrose, to learn how to maintain and safely operate its own fleet of drones.
The Banshee drones are 10 by 8 feet (approx. 3m x 2.5m) in size and can fly in excess of 400mph with a range of more than 60 miles. They are propelled into the air using a large 60-foot pneumatic launcher. Using a ground station, the controller can operate the aircraft in various modes and potentially access onboard cameras or other sensors.
The use of an auxiliary fuel tank ensures that endurance is similar to that of the single engine version with a typical mixed throttle mission time in excess of 45 minutes.
When fitted with the patented Hot Nose the target provides a forward and side-looking IR source with output in Bands I, II and III, whilst the jet engines provide a realistic rearward looking IR signature.
Once the flight is complete, the Banshee cuts its engine and deploys a parachute to gently float to the ground. The navy's first test flights of Banshee is expected to be held at Predannack Airfield near RNAS Culdrose in the summer.
---