---
According to a PR published by Austal on March 30, 2023, Austal USA launched the Spearhead class expeditionary fast transport USNS Cody (EPF 14), demonstrating the efficiency of the shipyard's launch process. The ship is now docked pier side for final outfitting and system activation in preparation for sea trials later this year.
Follow Navy Recognition on Google News at this link
---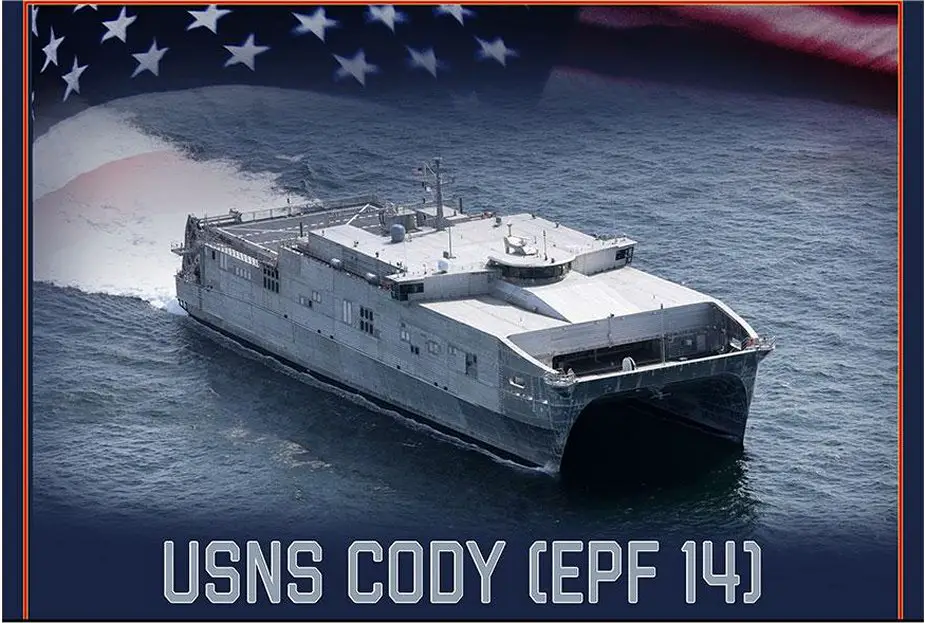 Spearhead class Expeditionary Fast Transport USNS Cody. (Picture source: US DoD)
---
During the launch process, the ship – which weighs upwards of 2,500 metric tons – is lifted almost three feet in the air. Using transporters, the ship is moved approximately 400 feet onto a moored deck barge adjacent to the final assembly bay. The ship is transferred from the deck barge to a floating dry dock which is then submerged enabling the ship to float for the first time.
With the ship in the water, production efforts will transition to final outfitting and system activation to support the ships getting underway for sea trials.
About USNS Cody
The Expeditionary Fast Transport is a type of vessel designed for fast transport of military personnel, vehicles, and cargo. It has a tonnage of 1,515 tonnes, a length of 103.0 meters (337 feet 11 inches), a beam of 28.5 meters (93 feet 6 inches), and a draft of 3.83 meters (12 feet 7 inches).
The vessel is powered by four MTU 20V8000 M71L diesel engines and four ZF 60000NR2H reduction gears, giving it a top speed of 43 knots (80 km/h; 49 mph) and a range of 1,200 nautical miles (1,400 miles; 2,200 kilometers).
The Expeditionary Fast Transport is capable of carrying various rigid hull inflatable boats and has a capacity of 600 short tons. It can accommodate up to 312 troops and has a crew of 41.
The vessel is equipped with four mounts for M2 .50 caliber machine guns, two aft and two forward. It also has a landing pad for a helicopter and a parking and storage area for an MH-60 Seahawk. The vessel can accommodate a CH-53 Super Stallion/CH-53K King Stallion helicopter for deployment purposes.
---