---
According to a tweet published by Chris Cavas on March 30, 2023, Austal USA has launched the Independence-class littoral combat ship USS Kingsville.
Follow Navy Recognition on Google News at this link
---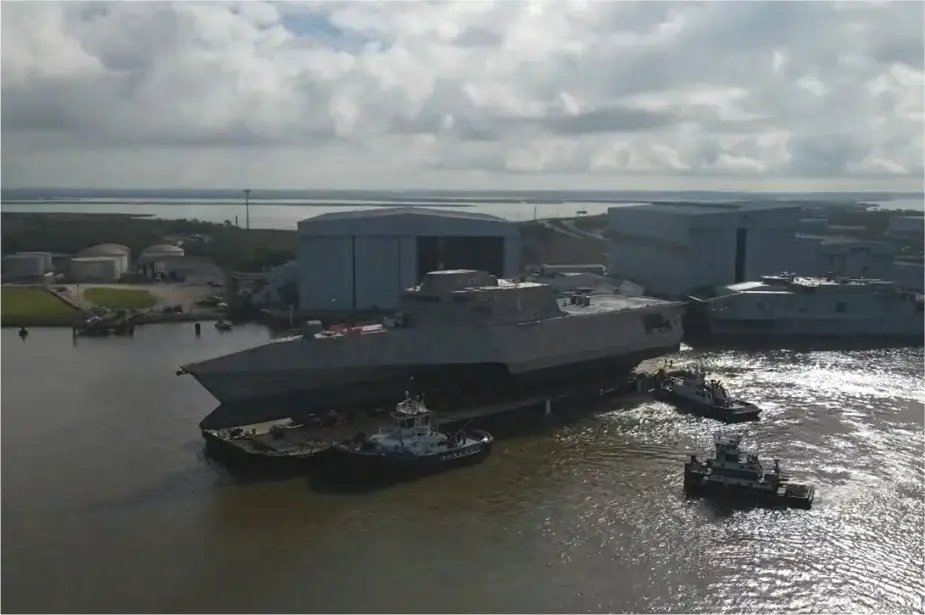 Independence-class LCS USS Kingsville. (Picture source: Austal)
---
The Independence-class Littoral Combat Ship (LCS) USS Kingsville was laid down on February 23, 2022, at the Austal USA shipyard in Mobile, Alabama.
This vessel has a displacement of 2,543 tons when light and 3,422 tons when full, with a length of 418 feet, a beam of 104 feet, and a draft of 14 feet. She is equipped with a CODOG system, which consists of two General Electric LM2500 gas turbines, two MTU Friedrichshafen 20V 8000 Series diesel engines, and four diesel generators.
The propulsion system also includes two American Vulkan lightweight multiple-section carbon fiber propulsion shaftlines, four Wärtsilä waterjets, two LJ150E engines, two LJ160E engines, and two retractable bow-mounted azimuth thrusters.
The Kingsville has a maximum speed of 44 knots, a range of 4,300 nautical miles at a speed of 18 knots, and a capacity of 210 metric tons. It can accommodate a core crew of 40, including eight officers and 32 enlisted personnel, as well as up to 35 mission crew.
The vessel is equipped with various sensors and processing systems, such as the SAAB AN/SPS-77(V)1 Sea GIRAFFE 3D air and surface search radar, the Sperry Marine BridgeMaster E navigational radar, the AN/KAX-2 electro-optical sensor with TV and FLIR, and the Northrop Grumman ICMS (Integrated Combat Management System).
She is also equipped with an ITT Corporation ES-3601 ESM system, four SRBOC decoy launchers for chaff and infrared decoys, and a BAE Systems NULKA active radar decoy system.
The Kingsville is armed with a BAE Systems Mk 110 57 mm gun, a Raytheon SeaRAM CIWS, four .50-cal guns, two 30 mm Mk44 Bushmaster II guns as part of the SUW module, eight RGM-184A Naval Strike Missiles, and 24 AGM-114L Hellfire missiles as part of the SUW vertical launch module.
She can also carry other weapons as part of its mission modules. The vessel can carry one MH-60R/S Seahawk and two MQ-8B Fire Scouts or one MQ-8C Fire Scout.
---